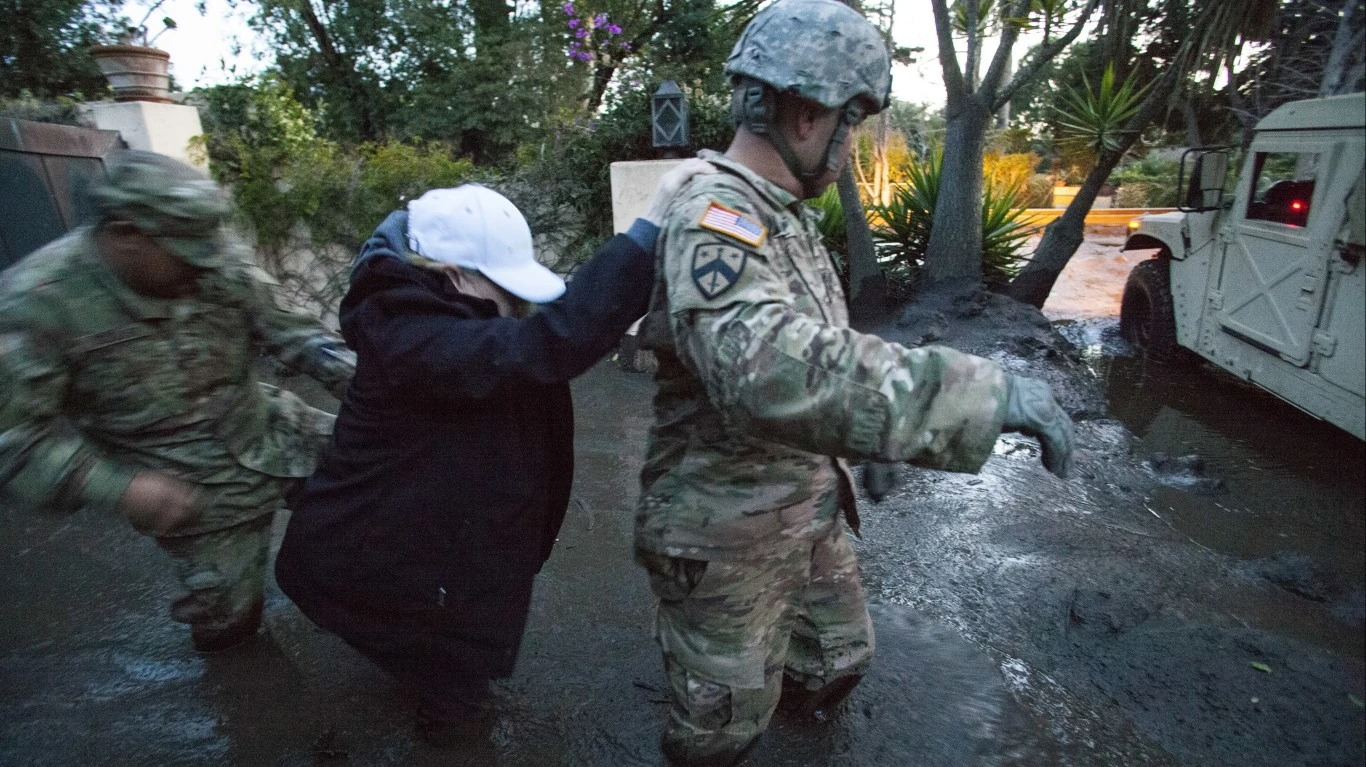 2022 is ranked third in the number of natural disasters in the U.S. that caused $1 billion in damage. In addition to Hurricane Ian, which ravaged Florida and parts of Georgia in September, severe drought conditions impacted many Western and Central states, major flooding impacted eastern Kentucky and eastern Missouri, and wildfires raged in western states, among the many weather events and natural disasters. As a result, many Americans were uprooted because of severe weather episodes. (These are the 18 separate billion dollar weather and climate disasters in 2022.)
To determine the states with the most people displaced by natural disasters in 2022, 24/7 Wall St. reviewed the U.S. Census Household Pulse Survey conducted between Dec. 9-19. We only included states where at least 1% of the population were displaced due to natural disasters at some point in the previous 52 weeks from when the survey ended and ranked them according to the percent of adults who were displaced. Supplemental data came from the National Oceanic and Atmospheric Administration's most recent study on Billion Dollar Disasters.
While California dealt with an earthquake in December that killed two as well as drought and a series of wildfires that consumed sections of the Golden State between January and October and claimed nine lives, it is not among the states that had the most displaced adults as a percentage of their population. Still, it is noteworthy as about a quarter of a million adults were displaced due to natural disasters. (California has had more weather disasters than any other state in the last decade.)
In the southeast, where Hurricane Ian tore up swaths of Florida and parts of Georgia in September, a greater portion of the population was displaced. In Florida, almost 1 million adults were displaced as a result of natural disasters that caused as much as $100 billion to $200 billion in damage, both the highest figures of any state. In Georgia, 95,700 adults were displaced, and damages caused by major weather events ranged from $500 million to $1 billion.
By percentage, Florida was not the state where most residents were displaced by disaster. That distinction belongs to Louisiana, where 409,996 people, or 11.9% of all adults, in the Pelican State were displaced due to natural disasters such as the tornadoes that hit the state in December. 
About half of the 18 states on our list had estimated damages caused by major weather events in 2022 of $1 billion or more.
Click here to see states where the most people were displaced by natural disasters last year.