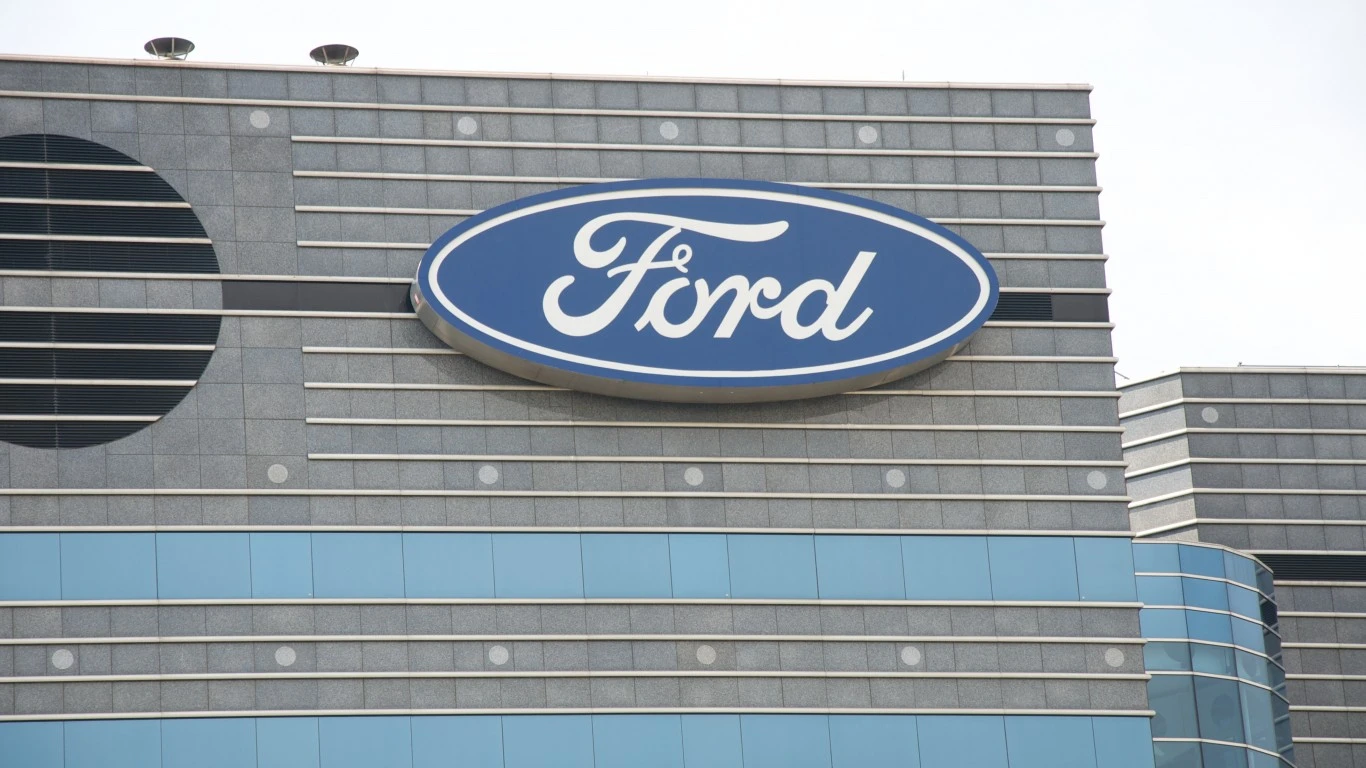 This is just……incredible pic.twitter.com/O88UvQ2FaG

— Drew Tuma (@DrewTumaABC7) March 21, 2023
.'Bomb cyclones'? 'Atmospheric Rivers'? The deadly and destructive storm that hit California this week — one of 12 such events to slam into the West Coast since late December — is raising fears about the ARkStorm scenario, which has nothing to do with Noah's Ark (we hope) and everything to do with Atmospheric Rivers. Read about how climate shifts and this dangerous phenomenon could threaten entire regions of California and beyond in our new editorial feature, Explain that, below.
NEW YORK CITY — Ford Motors' $F forecast this week that it will lose up to $3 billion on its nascent electric vehicle operation should come as no surprise to automotive investors. The massive investment required to retool a company such as Ford to produce EVs at scale was always going to lead to early losses.
But for investors trying to make sense of how the EV industry, with its battery components and charging infrastructure, will develop, it's a helpful preamble to the main story next week when the Treasury finally publishes its guidance on what electric vehicles will qualify for tax subsidies under the new Inflation Reduction Act.
Ford said investment in its EV production plants will cause it to lose $3 billion in 2023, up from $2.1 billion last year and about $900 million in 2021. It said it expects to report a profit on the division by 2026, which is also what rival General Motors $GM is targeting for profitability for its EV investment. By comparison, Tesla $TSLA took more than a decade to report a profit, though it had to start from scratch without the infrastructure of its larger competitors.
Those forecasts are contingent on strong demand for all of the EV makers' products in the next few years, a lot of which could be driven by clarity on subsidies and pricing that the Treasury will announce. All expectations are that the Biden Administration will loosen its eligibility requirements for which vehicles qualify for the $7,500 tax subsidy, both in terms of price and with regard to the percentage of components such as batteries that are made in America.
Still, the announcement will be a milestone in the early race among automakers to develop cheaper and more reliable EVs as demand pushes sales into the double digits in terms of percent of all auto sales (from just under 6% currently). Investors will be looking quickly to see which company might be best positioned to benefit from this wave of new buyers. Start your EV engines.
Marsha Vande Berg's Sustainability Stars: Sarah Gelfand and the quest for impact
. . . . The rise of impact investing over the past 15 years has coincided with a parallel rise in greenwashing claims that companies are simply announcing green intentions for the publicity. Sarah Gelfand of BlueMark is a pioneer in the practice of bringing both accountability and results to impact investing. She sits down with our Marsha Vande Berg for an exclusive interview about the challenges of impact and corporate social responsibility in Marsha Vande Berg's Sustainability Stars. . . .
Thursday's subscriber-only insights
. . . . Want to catch what's powering the EV investment wave? McKinsey estimates that more than 100 million batteries will reach the end of their life in the next 10 years, putting recycling at the forefront as a business opportunity "to scale a supply chain that is more stable, more resilient, more efficient, and more sustainable." Read more here. . . .
. . . . Here's how two apparent pieces of fossil fuel bad news could actually be good: First, Europe appears to be heading for an excess of LNG import capacity; second, TotalEnergies, in the same vein, says it is going big on natural gas. As a result, gas production will be so big that prices go down, thus pressuring coal users to get rid of their even-dirtier power plants, Plus, seeing profits dip because of low prices, oil companies will once again get serious about renewable energy (or risk going out of business). Read more here. . . .
. . . . Lost in the chaotic takeover of troubled Credit Suisse by UBS over the weekend and the unprecedented wiping out of certain bond holders by the Swiss government, is what the environmental impact on merging the two bank operations might look like. This analysis from Bloomberg (wish we had thought of it) takes a deep look at each bank's carbon emissions footprint and sustainable product sales record. While probably not UBS's top priority at this point in the takeover, it's going to be another in a long line of unavoidable headaches the bank will have to endure to integrate its rival in an effective way. . . .
. . . . It's green washing, not greenwashing, when you use concentrated detergent. Laundry is quite a carbon-intensive process. There's the washing machine and the dryer, both of which use large amounts of electricity. But did you think about the detergent, in particular the size of the bottles? Turns out it's a heavy issue. Read more here. . . .
Editor's picks: EPA plans to OK tougher California truck rules
Immediate policy action will be crucial to rapidly mobilise massive financing for clean energy alternatives to coal and to ensure secure, affordable and fair transitions worldwide.

Learn more → https://t.co/bVEzYMfP4x pic.twitter.com/Q7axOMt4Ro

— International Energy Agency (@IEA) March 22, 2023
EPA set to support tougher California truck-emission rules
The EPA plans to grant California waivers to enforce environmental rules that are tougher than federal standards for tailpipe emissions and would see the phase-out of diesel trucks. According to a report in the Washington Post citing unnamed sources briefed on the plans, the Biden administration will approve new California rules, already approved by state regulators as part of efforts to speed the transition to electric-powered trucks. According to the report, the new regulations could have a big impact on pollution and health, particularly in Black and Latino communities. Heavy-duty trucks account for nearly a third of the state's smog-forming nitrogen oxide and more than a quarter of its fine particle pollution from diesel fuel. Both of these harmful pollutants are linked to asthma, other respiratory illnesses and premature death, the Post report notes.
What experienced protesters have to say about climate change
Older adults took to the streets this week in what was described as the first-ever mass climate protests in the U.S. led by senior citizens, demanding that major U.S. banks including Chase $JPM , Bank of America $BAC , Citigroup $C and Wells Fargo $WFC stop funding new fossil fuel infrastructure. A report in The Independent said the events in 90 locations in New York, Washington, D.C., Alaska and along the West Coast were organized by Third Act, a climate action group for over-60s founded by longtime environmental campaigner Bill McKibben, and supported by organizations including the Sierra Club, Greenpeace, GreenFaith and The Hip Hop Caucus. "The banks just cannot acknowledge that we're in 2023, and keep partying like it's 1899," McKibben told The Independent on Friday. "Isn't it time for the banks to take note of the new reality of the climate crisis?"
Explain that: What's an ARkStorm?
In our new feature Explain that we bring you clear, unbiased and authoritative explanations of terms relevant to climate change and climate finance. Today, let's bail out the ARkStorm.
. . . . ARkStorm is a modeled scenario of U.S. West Coast winter storm events induced by the formation of Atmospheric Rivers (AR) and capable of causing massive and devastating flooding. While no one has said that as of today, California's recent series of AR storms is developing into an ARkStorm, interest in the subject is, ahem, rising. Yale Climate Connections says a 2022 study shows climate change has already doubled the risk of a California megaflood. And an additional 1°C. of global warming would double the odds again.
According to the USGS, the ARkStorm storm is patterned after the 1861-62 historical events but uses modern modeling methods and data from large storms in 1969 and 1986. The ARkStorm draws heat and moisture from the tropical Pacific, forming a series of Atmospheric Rivers (ARs) that approach the ferocity of hurricanes and then slam into the U.S. West Coast over several weeks. Atmospheric Rivers are relatively narrow regions in the atmosphere that are responsible for most of the horizontal transport of water vapor outside of the tropics.
Such a storm event "could realistically flood thousands of square miles of urban and agricultural land, result in thousands of landslides, disrupt lifelines throughout the state for days or weeks, and cost on the order of $725 billion. This figure is more than three times that estimated for the ShakeOut scenario earthquake, which has roughly the same annual occurrence probability as an ARkStorm-like event. The $725 billion figure comprises approximately $400 billion in property damage and $325 billion in business-interruption losses. An event like the ARkStorm could require the evacuation of 1,500,000 people. Because the flood depths in some areas could realistically be on the order of 10-20 feet, without effective evacuation there could be substantial loss of life. An ARkStorm would be a statewide disaster. Extensive flooding is deemed realistic in the California Central Valley, San Francisco Bayshore, San Diego, Los Angeles and Orange Counties, several coastal communities, and various riverine communities around the state. Both because of its large geographic size and the state's economic interdependencies, an ARkStorm would affect all California counties and all economic sectors." An ARkStorm could produce an economic catastrophe, threatening California with a long-term reduction in economic activity, and raise insurance rates statewide — perhaps nationwide or more — afterwards. An ARkStorm is plausible, perhaps inevitable — and, to some extent predictable, says the USGS. Also, to explain the name… AR = atmospheric rivers; k refers to 1,000 for the precipitation levels of a thousand-year storm; plus the word "storm" = ARkStorm.
Words to live by . . . .
"Of all the paths you take in life, make sure a few of them are dirt." — John Muir.