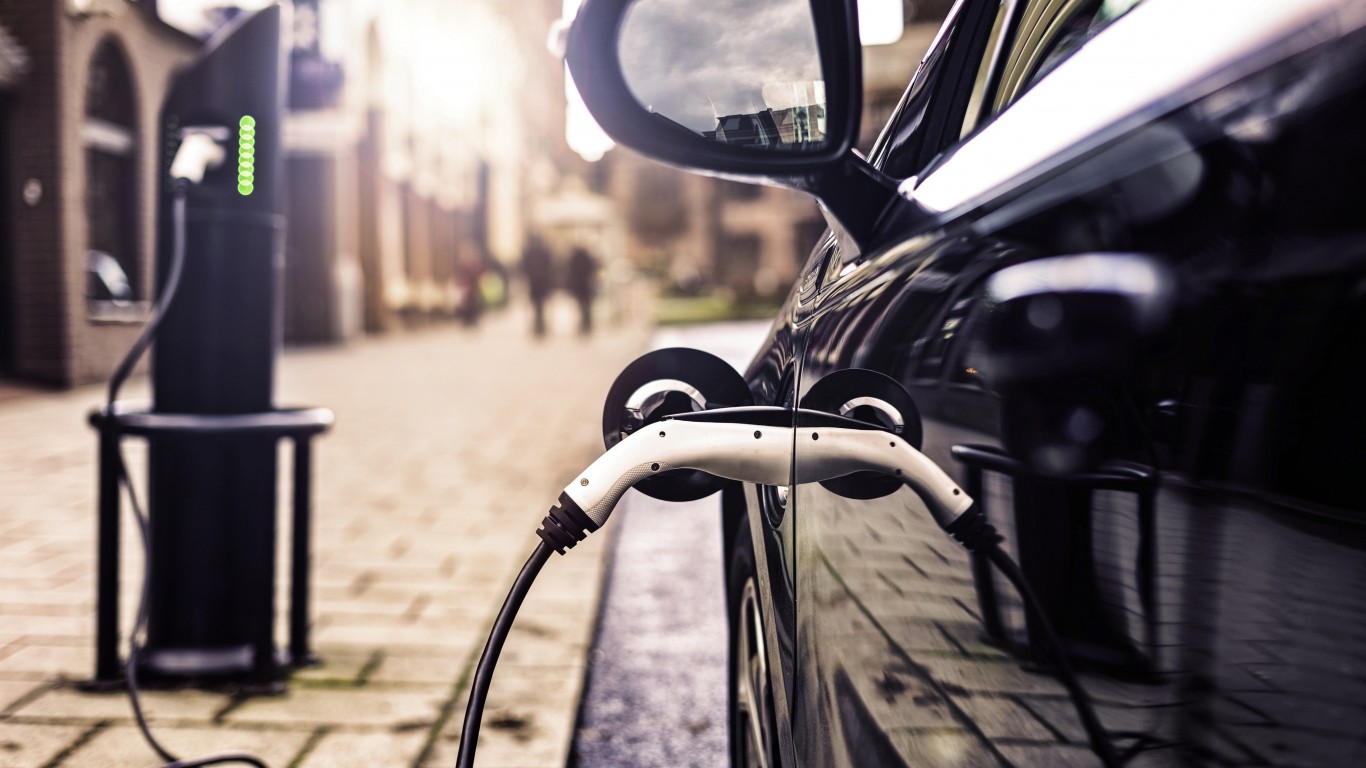 Political animosity in Washington D.C. over China and renewable energy is about to get a lot worse. Alongside the arguments over solar panels and battery technology, China is quickly becoming the world's largest producer and seller of electric vehicles, and they are coming to America.
The International Energy Agency forecast today that one in five vehicles sold this year — 2023 — will be electric, with China responsible for about two-thirds of them. Almost a third of cars to be sold in China this year will be electric, compared to about a fifth in Europe and 8% in the U.S., up from 4% last year, the IEA said.
Chinese automakers such as BYD and Nio $NIO are exporting large amounts of EVs to Europe, and beginning to target the U.S. Already, some are comparing the wave to Japan's auto dominance in the 1980s, which triggered the "buy American" theme that has become a political staple.
As Democrats and Republicans clash over energy security and how many solar panels and EV batteries or parts can come from China, the coming wave of EVs is largely overlooked. At some point, the IEA predicted the EV industry would center around 10 major auto developers, as just about everyone gears up to make their own models.
It is likely too soon to forecast how such a consolidation might happen, but when it comes, it won't be without a heavy dose of nationalism all around.
Has anti-ESG backlash made corporate America less green?
. . . . Almost half of American households aren't even moderately concerned about the environment, according to a new report. Mark Hulbert writes this is why red state politicians have found such fertile ground for their anti-ESG attacks, and why companies appear to be pulling back from some of their earlier climate pledges. He argues that a policy of engagement from activists, such as the one that worked with the Apartheid protests of the 1980s, is the only way the U.S can make any material progress in the battle against global warming. . . .
Thursday's market insights
Bank shareholders give free ride on fossil fuels this annual meeting season
. . . . A two-year bear market and anti-ESG backlash in some states have added to a shareholder malaise when it comes to resolutions on fossil fuel financing.
Our own Mark Hulbert wrote as much in his column two weeks ago, and this week resolutions to phase out fossil financing at three of the largest U.S. banks failed miserably.
Shareholders at Citi $C , Bank of America $BAC , and Wells Fargo $WFC voted only about 10% in favor of climate resolutions, according to Reuters.
The apathy reflects concern that cutting financing for oil and gas companies will threaten energy security, and in part, if you listen to the banks, the belief that fossil fuel giants have to remain in the transition conversation.
Whatever it is, the results certainly indicate that shareholders aren't the potent change force for climate progress they might have been thought to be a few years ago.
Anyone heard from Engine No. 1 $VOTE lately?. . . .
Top six states improving their grids this year
. . . . A surge in renewable energy such as wind and solar won't help mitigate global warming without improvement to electric grids to distribute it, and last quarter 47 U.S. states took some form of action to improve their grid planning or energy storage deployment, according to a report today by the N.C. Clean Energy Technology Center in North Carolina.
California, Texas, New York, Minnesota, Connecticut, and Maine were the most active, while Illinois filed its first integrated grid plans, the center said.
A general move among utilities to store more energy for emergencies and to develop microgrids to keep electricity outages from spreading is driving the action, though many states also made improvements into how they price and deliver energy to low-income communities.
Renewable energy, including nuclear, accounts for more than a third of energy created in America and is rising fast. Without corresponding improvements in grid resiliency and distribution, the utility industry risks becoming a choke point on the nation's economic transition away from fossil fuels.
Indeed, while a lot of investor attention is focused on smaller, sexier climate plays like electric cars, some of the biggest opportunities in coming years may be in the utility sector. One to watch. . . .
Editor's picks: U.S., European startups urged to set early emissions targets; plus, a bear
Startups urged to set emission targets early on
Twenty-three venture capitalist firms in the U.S. and Europe have formed an alliance to push startups to set greenhouse gas emission targets from the outset. The Venture Climate Alliance offers a boost for the Glasgow Financial Alliance for Net Zero, the voluntary coalition of financial institutions formed in 2021 to accelerate the shift to a zero-emissions economy, Karin Rives writes in a post for S&P Global Market Intelligence. The venture capitalists become a new sector-specific alliance under GFANZ, adding fresh members to the umbrella organization after several high-profile departures in recent months, Rives notes. Entrepreneurs funded by VCA members will not be required to commit to net-zero emissions by 2050, the target set by the Paris Agreement on climate change. Rather, they will be coached and encouraged to build a sustainable business that will eventually meet that goal.
South Africa may delay coal plant shutdowns
South Africa, which gets 80% of its electricity from coal-fired power stations, could delay the planned shutdown of many of the country's polluting coal plants, the government said this week. A report from The Associated Press notes that South Africa is suffering rolling nationwide blackouts, sometimes for more than 10 hours a day, because of an electricity shortfall. The blackouts have become worse over the past year and have damaged the economy and the popularity of the administration of President Cyril Ramaphosa. The AP reports that the new plan, outlined in Ramaphosa's weekly letter to the nation, the government will consider postponing the decommissioning of some of its 14 coal plants to help ease the electricity cuts.
Where does the heat go?
The Earth climate system is out of energy balance, and heat has accumulated continuously over the past decades, warming the ocean, the land, the cryosphere, and the atmosphere, say the authors of new research titled Heat stored in the Earth system 1960–2020: where does the energy go?. "According to the Sixth Assessment Report by Working Group I of the Intergovernmental Panel on Climate Change, this planetary warming over multiple decades is human-driven and results in unprecedented and committed changes to the Earth system, with adverse impacts for ecosystems and human systems." In a report on the study, the BBC highlights that in just the past 15 years, the planet has accumulated almost as much heat as it did in the previous 45 years, with most of the extra energy going into the oceans. "This is having real world consequences — not only did the overall temperature of the oceans hit a new record in April this year, in some regions the difference from the long term was enormous," says the report. Last month, sea surface temperatures off the east coast of North America were as much as 13.8°C. higher than the 1981-2011 average. The report quotes Karina Von Schuckmann, the lead author of the new study and an oceanographer at the research group Mercator Ocean International, as saying, "It's not yet well established why such a rapid change, and such a huge change, is happening."
Words to live by . . . .
"Darkness cannot drive out darkness; only light can do that. Hate cannot drive out hate; only love can do that." — Martin Luther King, Jr.