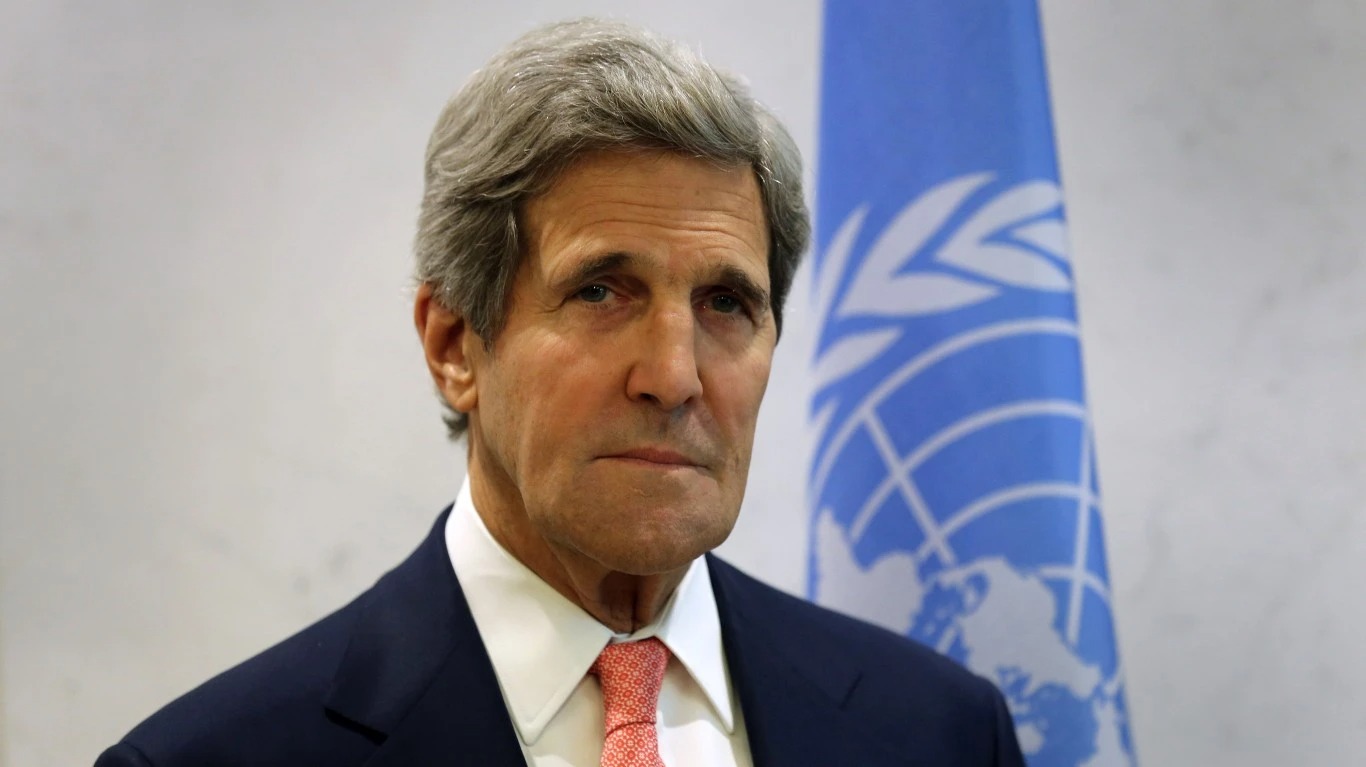 There is little doubt that World Bank head David Malpass' plan to resign from his role a year early this summer was the result of intense pressure from the Biden Administration to get rid of him. The intrigue in his resignation, announced Wednesday, is how creative the U.S. will be in replacing him.
Maplass, a Trump holdover whose term doesn't officially expire until 2024, had been in the Democratic firing line for months, branded a climate denier after refusing to say he believed in the science that fossil fuels were destroying the planet. None other than Al Gore called for him to step down as long ago as September.
His departure creates a unique moment for U.S. climate czar John Kerry, who has called for a fresh plan from the World Bank by April on ways to increase its investments in developing countries seeking financing to fight global warming. (Read our story: John Kerry's climate reparations dilemma has a very predictable solution.)
With the global banking community scheduled to descend on Washington D.C. in April for their spring meetings, we can expect the Biden team to work fast to get someone named who they can introduce, as another major climate step for this administration.
The U.S. typically chooses the World Bank head, and the Europeans choose the head of the International Monetary Fund. There is no shortage of financial celebrity candidates, from Mike Bloomberg and Chase's Jamie Dimon to Al Gore himself (even though he said he wouldn't accept the offer).
But there is a moment developing here where the U.S. could rock the climate finance world by nominating someone from Africa, or Latin America or Asia, where much of the financing is needed, to run the World Bank. A respected international banking leader who also represents the developing countries so badly in need of financing alternatives could change our lagging trajectory on climate mitigation.
We are constantly listening to politicians tell us we need bold strokes to fight something such as global warming. The moment has come.
What Vanguard's 'proxy voting choice' program could mean for climate investing
. . . . Vanguard's new proxy voting plan for fundholders is much simpler than the one BlackRock offered last year, although both were designed to allow shareholders of funds to voice their support for change in company policies on topics such as environment, social campaigns or corporate governance (ESG) writes Mark Hulbert. But in making it easier, the new strategy may also pull back the curtain on just how many shareholders of big asset managers really care enough about climate change to stand up and vote. For all the talk about ESG and shareholder demand, we're now going to see just how big a deal it is. . . .
This week's subscriber-only insights
Tesla to open up charging stations
. . . . The news that Tesla will open up some of its EV chargers — the nation's largest network — to competitors is a big step forward for expanded use of electric vehicles. Less range anxiety, more choice, etc. But a close read of the announcement and follow-up analysis suggests Tesla may be getting the better part of the deal, while still maintaining a good portion of its monopoly. Read more here. . . .
The search for a Republican climate standard bearer
. . . . Climate change, Ron DeSantis, and Nikki Haley. How will this one play out in the race for the GOP presidential nomination? The all-but-declared DeSantis just slammed ESG investing as "woke" and a "scam." While Haley did not address climate in her Wednesday morning announcement, she does have a plan, though it revolves more around carbon capture than carbon reduction. Will climate change even be a factor in the Republican race? Read more here. . . .
Carbon emissions tech deals stayed hot in 2022
. . . . Most deals fell last year as struggling markets and soaring oil prices tied to Russia's invasion of Ukraine kept a lid on venture capital financing of new startups, but the red-hot carbon emissions technology sector managed to hold its own, according to the latest report from Pitchbook.
The number of deals rose to 734 in 2022 from 704 in 2021, the report said. Total financing dollars fell, but only 2%, to $13.8 billion from $14.1 billion. Startups in the manufacturing and chemicals space stood out, as well as battery technology and recycling technology, Pitchbook said. There was even a carbon fintech in the mix.
The enthusiasm for carbon emissions technology among investors belies the fact that there are no proven winners in the space yet, while some of the biggest U.S. companies are investing billions in lithium-ion battery technology. Whether the carbon sector shakes out, like electric vehicles or even Internet 1.0 companies before it, remains to be seen. But as of now, that's where the hot money is. . . .
New ambassador to the Arctic
. . . . The Biden Administration this week nominated a U.S. ambassador for Arctic affairs, seeking to upgrade a role that will become critical in coming years as the Arctic ice melts and sets off a military scramble for control of the region. While former President Donald Trump infamously tried to buy Greenland, the idea of who will control this evolving region isn't funny at all. Climate change will open new shipping routes and control opportunities for everyone from China to Russia. It's time to get this stuff to the top of the agendas in Washington D.C. . . .
New climate newsletter
. . . . Hat tip to Chuck McCutcheon, the climate policy editor for Bloomberg who left last month to join a team creating a new Axios Pro Energy Policy newsletter, which launches today. The Axios newsletter is the latest to hit the climate space, as President Joe Biden's $370 billion climate bill last year is sparking a wave of new investment and policy tied to climate change and climate finance. Like the renewables transition itself, the climate media is quickly evolving to meet reader demand. . . .
ESG analysis of the week
. . . . Speaking of Bloomberg, Editor Emeritus Matt Winkler is out with a new piece this week breaking down just how many millions of dollars Florida and Texas residents are losing in borrowing costs because of the anti-ESG policies of their politicians. In the piece, Winkler, who is an expert on bond markets, lays out the exact costs in extra premiums the states carry because of a lack of competition from the Wall Street banks banned by politicians. A great primer for anyone trying to make sense of what Florida Gov. Ron DeSantis did to his state this week when he banned ESG practices in every state office. . . .
Editor's picks: Europe's road to zero emissions; plus, the big problem with small plastics
Clear support from @Europarl_EN for putting 🇪🇺 car industry on the road to zero-emission.

With this vote, EU citizens can drive clean, affordable cars. The global transition is happening, and EU car industry is ready to lead it. #EPlenary #EUGreenDeal pic.twitter.com/tlzdXVACGW

— Frans Timmermans (@TimmermansEU) February 14, 2023
Zoox robotaxis rolling out
Autonomous robotaxis from Amazon $AMZN subsidiary Zoox are starting to roll out on public roads in Northern California, marking a milestone for the company which, according to TechCrunch, launched eight years ago with an ambitious goal to build and operate a commercial robotaxi service with its own purpose-built vehicle. The rollout is limited to ferrying Zoox employees on a shuttle service, two-mile loop between company buildings in Foster City, Calif. Zoox has been testing its robotaxi vehicles on "semi-private" roadways in California since last year, according to the report. Zoox did not disclose the size of the shuttle fleet. Zoox co-founder and CTO Jesse Levinson said the company has built dozens of robotaxis and plans to add more of the vehicles to its permit with the California Dept. of Motor Vehicles.
A big problem with small plastics
They may be very small, but there are a lot of them: the little plastic containers so often used in household and personal care products. These so-called "small format plastic products," usually less than two inches long, are problematic because they fall out of the recycling stream due to their small size. But now the Massachusetts Institute of Technology and the nonprofit Sustainability Consortium are working with Colgate-Palmolive $CL , Procter & Gamble $PG , the Estée Lauder Cos. $EL , L'Oreal and Haleon $HLN to develop new sorting equipment that can handle a wide range of resins and shapes and keep them in the recycling stream for materials recovery facilities, reports Resource Recycling. Jennifer Park, collective action manager at The Sustainability Consortium, told MIT News that the project is an example of pre-competitive collaboration and an interesting approach to brand sustainability goals. "They're investing in innovations that they hope will be adopted by the recycling industry to make progress on their own sustainability goals," Park said.
Climate risk and financial systems: Analyzing connections
New research, titled Climate Risk and Financial Systems: A Nonlinear Network Connectedness Analysis, investigates the effect of climate risk on systemic financial risks by employing the network approach. The authors say the results demonstrate that climate risk not only affects a single financial market, but also induces risk co-movement, which aggravates potential systemic financial risks. From the abstract: "More specifically, we find that while the forex and commodity markets appear to be usually more sensitive to climate-related information, the bond and stock markets play a crucial role in transmitting climate risk. In addition, the vulnerability of financial asset price fluctuations to climate risk changes substantially over time. Quantile regressions reveal the positive impact of climate risk on total connectedness across the financial system. Our study provides novel insight into how the financial system responds to climate-related information and how systemic risk dynamics materialize." Authors: Xiaodan Mao, Changsha University of Science & Technology; Central South University; Ping Wei, Central South University; and Xiaohang Ren, University of Southampton.
Words to live by . . . .
"The richness I achieve comes from nature, the source of my inspiration." — Claude Monet.