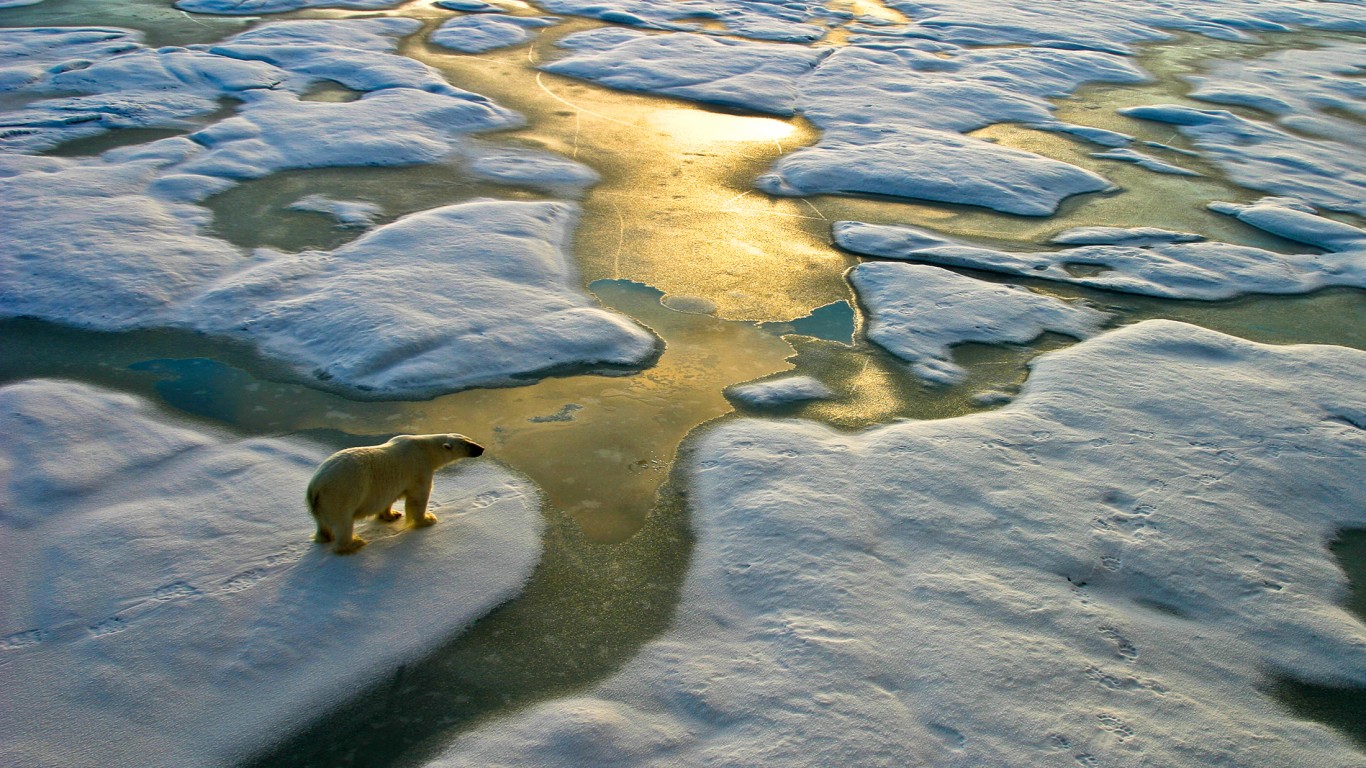 After more than a year of keeping a low profile around all things ESG because of political backlash, Wall Street is quietly shifting gears for another run at climate finance, perhaps spurred by investor demand tied to record heat and wildfire smoke this summer.
BlackRock $BLK , which once led the charge toward the climate transition before being attacked by red state anti-climate leaders, returned last week in the form of a midyear investment report with its prediction that the move to a lower-carbon economy will require a "massive reallocation of capital as energy systems are rewired."
As if on cue, the New York Times then floated one well-known economist's idea for a carbon-linked bond, which would act like a green corporate bond and tie the federal government to its carbon commitments through rising yields. An intriguing, market-based idea that would attempt to hold governments to their promises, which would encourage more investment.
The renewable energy trade on Wall Street, which has been dormant since oil surged with the Russian invasion of Ukraine last year, is not quite back in action, though some of the renewable companies have begun to see attention during the second quarter tech rally. But as billions from President Joe Biden's Inflation Reduction Act continue to flow into the economy, it's only a matter of time for a rotation.
The Intercontinental Exchange in London this morning unveiled new futures contracts tied to decarbonization of the environment (see below). And S&P Global, also today, cited a study in the academic journal Science in its morning report, saying U.S. emissions are on track to fall between 43% and 48% by 2035 from 2005 levels, in part thanks to investments spurred by the IRA. That might not be in time to prevent what we're seeing this summer, but it's good to see Wall Street paying attention again.
The unavoidable greenwashing of Scope 4 emissions
. . . . With all the controversy around the reporting of Scope 3 emissions, or the pollution from a company's supply chain, little has been said about Scope 4 emissions, and there may be a reason for that, writes Mark Hulbert. The vagueness around Scope 4, which is supposed to be the amount of "avoided emissions" from using a company's products versus those of another company, appears to be a marketer's dream. Because they are so difficult to accurately report, the potential for greenwashing by companies in how they record them is just about unavoidable. . . .
Thursday's subscriber insights
Offshore wind race in the U.S. sees an early leader
. . . . The U.S. has been super-slow to the offshore wind power game, with a slew of projects on the East Coast being held up by federal, state and local reviews, leading, in part, to major developers getting cold feet. But that may not be the case in Louisiana, where proposed projects are in state waters and the regulatory environment is much friendlier. Plus, there is expertise nearby because of the state's many offshore oil installations. Read more here. . . .
Why there's a growing green love affair in the Lone Star State
. . . . In the end, money talks. And that's what's happening in heat-stricken Texas, where not only have renewables kept air conditioners running but have also kept energy prices stable. Another benefit: Locally produced renewable energy protects consumers from the vagaries of the fossil fuel markets. Read more. . . .
Rivian share surges 50% in one week
. . . . Electric vehicle investors should circle Tuesday, Aug. 8 on their calendars, as that's when EV truck and SUV maker Rivian $RIVN reports second-quarter results. And that's when we'll see whether the company's 50% surge in shares in the past week was worth the effort.
Rivian announced the earnings date last week along with guidance on second quarter production that beat estimates and kept the company on track to meet its prediction to roll 50,000 vehicles off production lines this year.
Rivian's EVs are the darlings of automotive first adapters, creating a stir and turning heads much like the early Teslas did when they hit the roads. But while Tesla $TSLA produced almost half a million vehicles last quarter, Rivian's production of 24,337 in 2022 seemed so far off that investors put it into the bucket of EV startups who would never generate the scale they needed to compete with the big boys.
It's announcement that it made 13,392 now seems to put it in line to double production this year over last. This past week's jump in shares shows that investors, at least for now, are willing to give it a chance. . . .
Late-breaking dispatches
. . . . Sad news to report from the UK. Cervest, the London-based climate intelligence firm run by entrepreneur Iggy Bassi, announced this morning it will close shop after seven years and sell its intellectual property and assets to Mitiga Solutions. The company developed a remarkable software program that could analyze any physical asset in the world — from a building to a city — and determine what the onset of global warming would do to it over the next 30 years. We assume we'll see Bassi again, and that this form of climate intelligence will be carried on by others as financial demand to forecast heat, flooding and fire climbs. . . .
. . . . The Intercontinental Exchange this morning unveiled what it called the first environmental futures market, with contracts launching this quarter and trading on information from Alberta, Canada's carbon reduction program. ICE has been at the forefront of carbon trading products in the past few years, and this one takes it into what many expect will be a new era of trading based on advances in saving and preserving large parts of the environment. . . .
Editor's picks: Hottest days on record; plus get ready for El Niño
The world's hottest day
Monday Tuesday Wednesday was the hottest day ever on Earth recorded by humans, and it's possible probable that record could be broken again this year month week. The National Centers for Environmental Prediction reported that on Monday, July 3, the average global temperature reached 17.01°C., or 62.62°F. That was a record. On Tuesday, it climbed again, to hit 17.18°C., another record. But wait. On Wednesday, it stayed at 17.18°C. (62.9 degrees°F.), according to the University of Maine's Climate Reanalyzer, a tool that uses satellite data and computer simulations to measure the world's condition. The previous record of 16.92°C. was set in August 2016. Climate scientist Dr. Robert Rohde, lead scientist at Berkeley Earth, tweeted "NCEP has placed Earth's average temperature [Monday] as the hottest single day thus far measured by humans. This is driven by the combination of El Niño on top of global warming, and we may well see a few even warmer days over the next 6 weeks." Friederike Otto, senior lecturer in climate science at the Grantham Institute for Climate Change and the Environment in the UK, told CNN, "It's not a record to celebrate and it won't be a record for long, with northern hemisphere summer still mostly ahead and El Niño developing."
El Niño is here, get ready
El Niño conditions have developed in the tropical Pacific for the first time in seven years, setting the stage for a likely surge in global temperatures and disruptive weather and climate patterns, according to the World Meteorological Organization. A new update from the WMO says there's a 90% probability of the El Niño event continuing during the second half of 2023, and it's expected to be at least of moderate strength. "The onset of El Niño will greatly increase the likelihood of breaking temperature records and triggering more extreme heat in many parts of the world and in the ocean," said WMO Secretary-General Prof. Petteri Taalas. He added that the El Niño declaration is a signal to governments around the world that "early warnings and anticipatory action of extreme weather events associated with this major climate phenomenon are vital to save lives and livelihoods."
Accurate forecasts save lives

This working paper from the National Bureau of Economic Research provides the first revealed preference estimates of the benefits of routine weather forecasts. The paper, titled Fatal Errors: The Mortality Value of Accurate Weather Forecasts, shows the benefits from people using advance information to reduce mortality from heat and cold. From the abstract: "Theoretically, more accurate forecasts reduce mortality if and only if mortality risk is convex in forecast errors. We test for such convexity using data on the universe of mortality events and weather forecasts for a 12-year period in the U.S. Results show that erroneously mild forecasts increase mortality whereas erroneously extreme forecasts do not reduce mortality. Making forecasts 50% more accurate would save 2,200 lives per year. The public would be willing to pay $112 billion to make forecasts 50% more accurate over the remainder of the century, of which $22 billion reflects how forecasts facilitate adaptation to climate change." Authors: Jeffrey Shrader, Columbia University School of International & Public Affairs, IZA Institute of Labor Economics; Laura Bakkensen, University of Arizona; Derek Lemoine, University of Arizona Department of Economics.
Words to live by . . . .
"All good things are wild and free." — Henry David Thoreau.