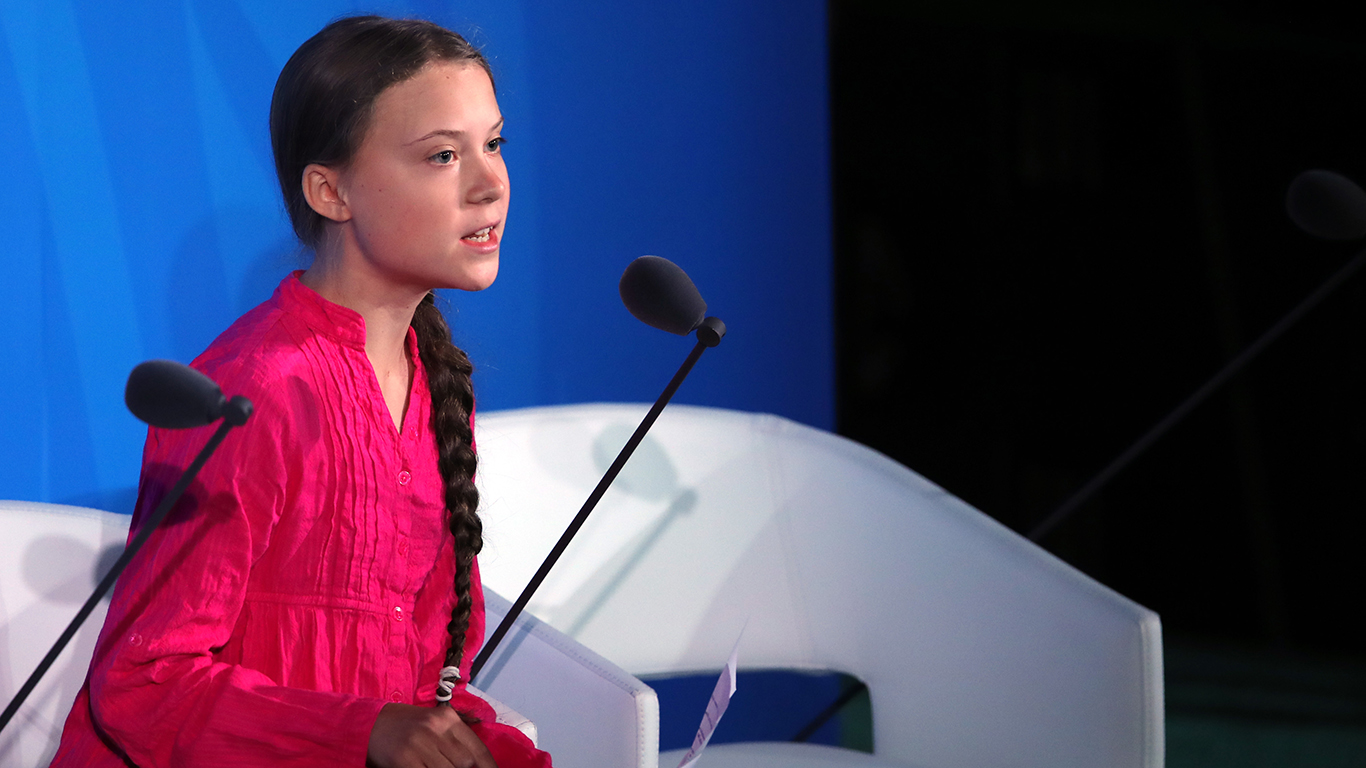 My brother in London gave me an early copy of Greta Thunberg's "The Climate Book," for Christmas. It hits the shelves in the U.S. on Valentine's Day. At 436 pages, it's more of a textbook than a beach read, but it's a fascinating compilation of articles from climate academics, writers and commentators.
Ranging from Margaret Atwood and Katherine Hayhoe to Bill McKibben and Erica Chenoweth, the articles attack climate change and our impending future from every angle, interspersed with short bursts of hope and guilt from Greta herself. In particular, she takes direct aim at the media.
She argues that the media ignores climate as a global disaster and instead marginalizes it by focusing on the symptoms, such as individual disasters, or campaigns against oil companies, or even climate celebrities. She points out that only when the media collectively led with the facts about Covid — that it was killing people indiscriminately and that immediate changes in lifestyle, such as sheltering in place, were needed to survive — did people collectively react.
It's a simplistic argument that any media executive would find a hundred holes in, almost all of them tied to business strategies and ratings. But that's why it works. The division in how governments, investors, politicians and activists approach climate change is a direct result of the information, or misinformation, being fed to them.
In the past five years, we've seen the media begin to understand that every story is a climate story, and beef up coverage from every angle, including climate finance here at Callaway Climate Insights. I'm not a huge Greta fan, and I'm sure she'd be no fan of our thesis that technology will help us adapt to global warming and turn a profit. But in this instance, I think she's captured the essence of, not what the media needs to do, but what it will eventually have to do when every other alternative has failed.
More insights below . . . .
Zeus: Fed's shift on climate policy won't weather the coming storms
. . . . Federal Reserve Chairman Jay Powell is doing his best to sidestep Republican opposition to any and all climate change policy in Washington, but the central bank is already in the center of a growing climate financial crisis, writes David Callaway from storm-torn Northern California. Capitol Hill politics is a different world than the one from the one where people are living through climate disasters, where both human and financial damages are rising. Powell protects the Fed's cherished independence by staying away from global warming, but with climate risk growing, banks and insurance companies need leadership. . . .
Marsha Vande Berg's Sustainability Stars: Hitachi's Norio Masuda
. . . . One of the biggest climate finance stories of 2023 will be how Europe and the U.S. climate bodies sync regulations on corporate reporting and risk management. But what of Japan and Asia? In the next installment of her Sustainability Stars series, Marsha Vande Berg interviews Hitachi's Norio Masuda, senior manager and liaison to the country's important ESG Disclosure Study Group, about how to adapt emerging global regulations with Japan's unique business culture. Her Q&A with Masuda-san provides unique insight into how Japan's largest companies view climate risk and corporate reporting. . . .
This week's subscriber-only insights
NEW: Per @NOAA's most recent report, 2022 saw a whopping 18 billion-dollar disasters, making it tied for the third-costliest year on record.

Even worse than the $165 billion-dollar price tag? 474 lives were lost as a result of these weather events. pic.twitter.com/BE26gnznsW

— The Weather Channel (@weatherchannel) January 10, 2023
. . . . Extreme weather disasters fueled by climate change killed at least 474 people and caused more than $165 billion in damages across the U.S. in 2022, NOAA scientists said Tuesday. Meanwhile, the death toll in the California floods and storms is still climbing. Yes, global warming has become very costly, both in terms of lives and money. And now a majority of people want something to be done. Read more here. . . .
. . . . . Got a kid in high school? Thinking about a possible career for him or her? You might want to consider heading for electrician school. Why? Because the need for wiring wizards looks like it'll be huge as we head to the all-electric era. Read more. . . .
COP28 climate summit approaches new low — an oil exec in charge
. . . . Oil executives have always been a sort of, well, greasy presence at COP climate summits, like O.J. Simpson at a Super Bowl party. But the past two summits in Glasgow and Sharm-el-Sheikh have been overrun with them. Now the Guardian reports that the UAE, home to this year's COP28 in Dubai, plans to name the country's top oil boss, Sultan Al Jaber, chief of Abu Dhabi National Oil Company, as president of the climate talks.
The UN's COP climate summits have been gradually succumbing to greenwashing from corporations for years. Last year's was sponsored by Coca-Cola $KO , a notorious plastic polluter. And yes, there is a strong case that we need oil companies to eventually lead the renewable energy transition, as they have the expertise, the firepower, and the cash. Certainly, that will be Dubai's argument.
But the symbolism of Big Oil capturing control of the largest global climate meeting will be too much to bear for many climate activists. Expect a fight over this one as the entire concept of the massive COP climate meetings slides toward irrelevancy. . . .
Editor's picks: Benefit$ of bi-directional charging, more
India expects utilities' coal demand to rise
India has said it expects its power plants to burn about 8% more coal in the fiscal year ending March 2024, according to a senior government official and a power ministry presentation, Reuters reports. India missed its 2022 renewable energy goal by more than 30%. According to the report, India "has been clinging to coal for energy security as it tries to get its economy back on track after a Covid slowdown and stave off power shortages that led to idled factories and villages without electricity during a blistering heatwave." The government presentation showed utilities' coal demand is forecast to reach 821 million tonnes in 2023-24.
FBI joins investigation of attack on Las Vegas solar plant
A Las Vegas man has been charged with terrorism after he allegedly attacked a solar facility that provides power to 13 MGM Resorts International casino properties. A report from S&P Global Market Intelligence notes that "while previous attacks have mostly targeted substations, causing widespread power outages in separate recent incidents in the Pacific Northwest and North Carolina, this attack was one of the first on a generation facility." According to the report, Las Vegas police have Mohammed Mesmarian, 34, with one count of committing terrorism, two counts of first- and third-degree arson, one count of destroying personal property and another count for attempted escape by a felony prisoner. Mesmarian is accused of forcibly gaining entry to the 100-MW Harry Allen Solar Energy Center, known as the Mega Solar Array, just before noon on Jan. 4, where he crashed his car into the solar generator's transformer and then lit his car on fire. The FBI said Monday it has joined the investigation but did not provide any additional details.
Saying farewell to fossil fuels
Leaders in the fossil-fuel sector must bring about the end of their industry as we know it, say the authors of Time to Put the Fossil-Fuel Industry Into Hospice, published in the Stanford Social Innovation Review. And to consider how that can be accomplished, they apply models typically seen in the healthcare scenario of terminal illnesses. From the abstract: "We begin by presenting the prognosis that both society and the fossil-fuel industry face existential challenges that are terminal in nature. With such a prognosis, we then consider three possible forms of treatment: (1) triage, (2) euthanasia and (3) hospice. Finally, we offer 10 key considerations in carrying out such a treatment regimen." Authors: Andrew John Hoffman, University of Michigan, Stephen M. Ross School of Business; and Douglas Ely, University of Michigan, Stephen M. Ross School of Business.
Words to live by . . . .
"Climb the mountains and get their good tidings. Nature's peace will flow into you as sunshine into trees." — John Muir.