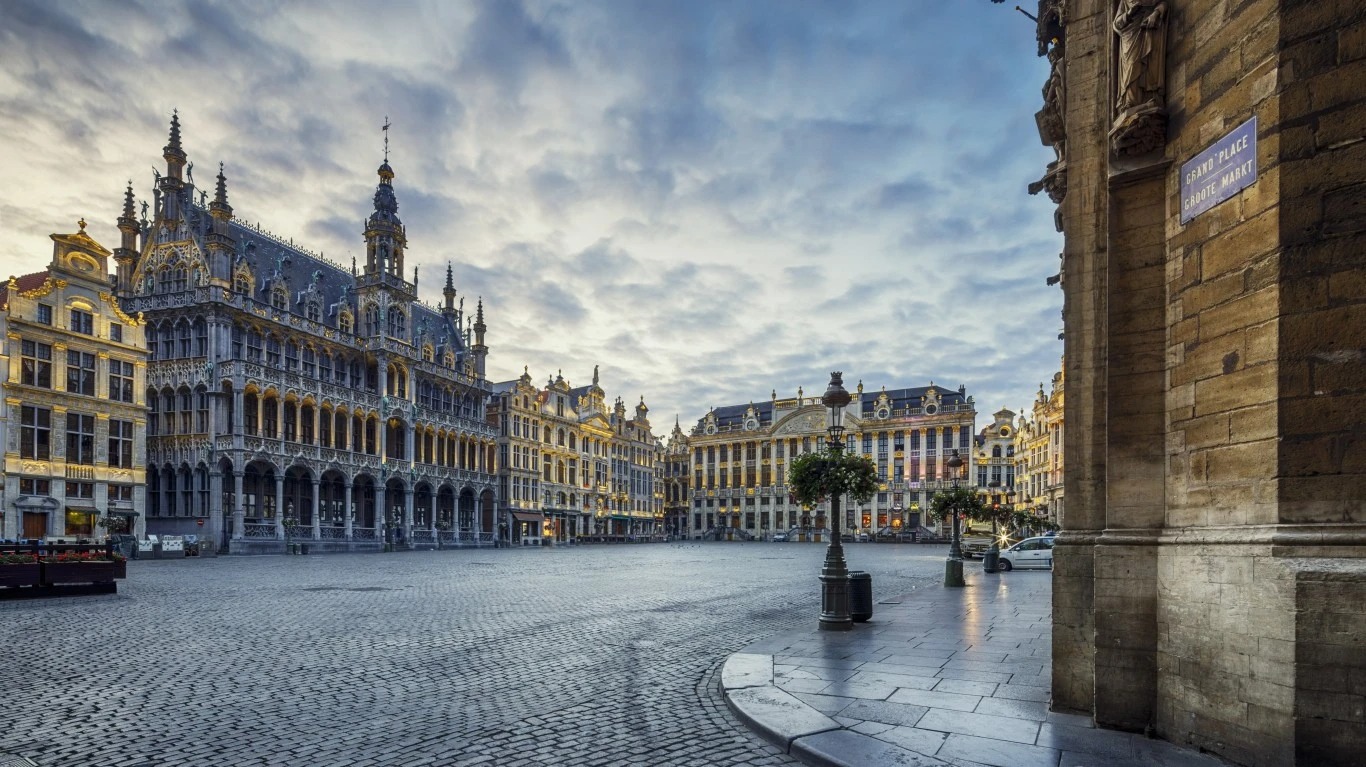 President Joe Biden's State of the Union speech this week was heavy on the success of his Inflation Reduction Act in jump-starting green investment in the U.S., and it was not lost in the corridors of power in Brussels.
European griping over the U.S.-favored subsidies in the legislation gave way this week to the EU's own business investment plan, the Green Deal Industrial Plan, which European leaders are discussing in Brussels today and tomorrow. The plan, presented by EU leader Ursula von der Leyen, would invest almost $400 million in green technologies.
But even though it's roughly the same size and scope of the IRA, it will likely focus on materially different industries. While the U.S. plan has heavily benefited solar companies, the EU plan will be geared more toward wind power, particularly offshore wind. It will also be heavy on battery power for Europe's emerging fleet of electric vehicles, trains and planes.
For Europe, which until the IRA was introduced last year had largely been considered the leader of the global climate table, the Green Deal plan will ensure that it doesn't lose a step in what is developing into a green arms race. Don't forget China, which actually is investing more than the U.S. and Europe, and which will play its usual wildcard role among trading partners in both blocs.
For investors, and consumers, this is all welcome news. Governments work best when they set the stage for markets to grow. A little competition is a good thing, as long as none of the parties forget that our overall goal is the same.
Zeus: Water endgame in the West begins to take shape
. . . . California's recent series of rain storms, which poured more water on the state in a month than in the past two years, exposed a nasty secret, writes David Callaway. The state, which has been plagued by drought, was unequipped to capture much of the water sent by Mother Nature. As California battles with other Western states for access to precious water from the rapidly depleting Colorado River, this lack of focus on water capture and preservation threatens its ability to lead any Western solution strategy. Much less participate in one. . . .
This week's subscriber-only insights
. . . . Zombie batteries? EVs? Great! No tailpipes, no pollution. Except there are a couple of big problems. First, most of the power going through EV chargers currently comes from fossil fuels, thus pretty much negating the advantages. And then there is the problem of what to do with the used batteries. A startup appears to have come up with a clever solution. Read more. . . .
. . . . It just sits there, doesn't it? Concrete, that is. But the ubiquitously used building material is responsible for 7% of global carbon emissions. Now New Jersey is doing something about it with a green concrete tax credit, a move being watched by other states, notably California and New York. Read more here. . . .
Editor's picks: Nat gas prices explode in California; gas stove debate heats up
Utilities can't blame inflation. The cost of wholesale natural gas across the country has dropped 50 percent in the past year, but here in California, it has gone up 63 percent during that same period. https://t.co/X45D1PaZ6b

— KTVU (@KTVU) February 7, 2023
Natural gas prices explode in California. Why?
While the cost of natural gas has declined across the U.S., prices have risen sharply in California, where some consumers are seeing an increase in their utility bills of as much as 300%. Gov. Gavin Newsom and U.S. Sen. Dianne Feinstein have asked federal regulators to step in and investigate, a report from Fox affiliate KTVU in San Francisco notes. They recently asked the Federal Energy Regulatory Commission (FERC) to review "…whether market manipulation, anticompetitive behavior or other anomalous activities are driving these ongoing elevated prices." Utility representatives have said the cost increases are attributable to cold weather, demand and problems with pipeline operators. According to the report, the wholesale cost of natural gas is down 50% in the past year, nationwide, but has risen 63% in California during the same period. Newsom has said the state plans to issue natural gas credits of up to $120.
Cooking with gas? The heat is on
As the debate heats up, so to speak, about natural gas stoves, the Consumer Product Safety Commission is investigating if more regulation is needed to protect the health of those who live in homes where the appliances are used. And NPR reports on proposed rules from the Department of Energy that would require all stoves to be more energy efficient. If approved, more than half the gas cooktop market today wouldn't qualify under the new requirements, according to the DOE. But, according to the report, designers and scientists at industry research groups decades ago did, in fact, come up with a better burner — an infrared burner. "This infrared burner consumed about 40% less natural gas to reach cooking temperatures and emitted 40% less nitrogen oxides." So, what happened? The burners were probably too costly and the technology was never fully developed. NPR notes that may change as stove manufacturers face scrutiny and evidence grows showing emissions from gas cooking stoves can be harmful.
Carbon policy surprises and stock returns
Understanding the impact of climate mitigation policies is key to designing effective carbon pricing tools. The authors of the International Monetary Fund working paper titled Carbon Policy Surprises and Stock Returns: Signals from Financial Markets use institutional features of the EU Emissions Trading System (ETS) and high-frequency data on more than 2,000 publicly listed European firms over 2011-21 to study the impact of carbon policies on stock returns. After extracting the surprise component of regulatory actions, the research shows that events resulting in higher carbon prices lead to negative abnormal returns which increase with a firm's carbon intensity. This negative relationship is even stronger for firms in sectors which do not participate in the EU ETS, suggesting that investors price in transition risk stemming from the shift towards a low-carbon economy. They conclude that policies which increase carbon prices are effective in raising the cost of capital for emission-intensive firms. Authors: Martina Hengge, IMF; Ugo Panizza, Graduate Institute of International and Development Studies Department of Economics; CEPR; and Richard Varghese, IMF.
Words to live by . . . .
"No more excuses. No more greenwashing. No more bottomless greed of the fossil fuel industry and its enablers." — UN Secretary General António Guterres, in comments from his briefing to the General Assembly on priorities for 2023.