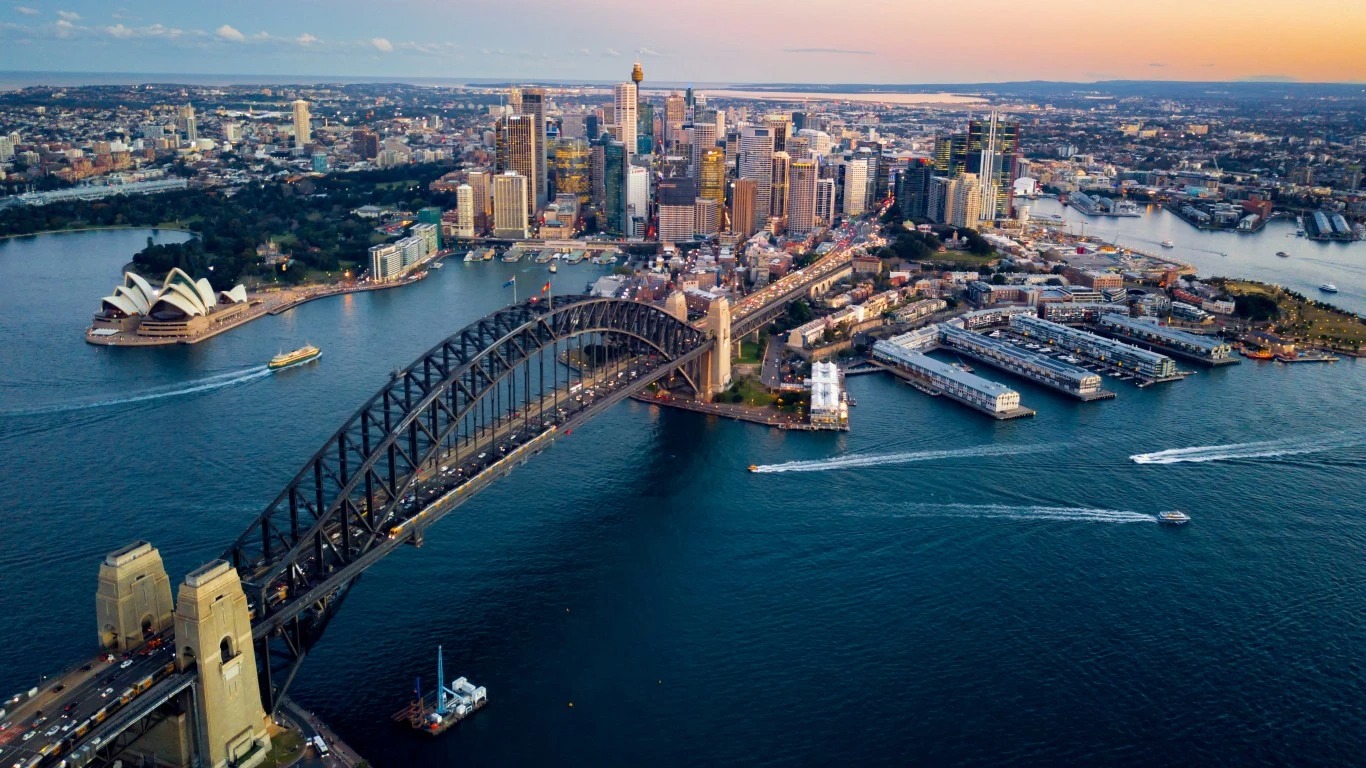 With the ongoing war in Ukraine and continuing tensions between China, Taiwan and the United States, global tensions may be at their highest point in several decades. Russia's invasion of Ukraine in 2022 resulted in Western sanctions against Moscow, and the arms sent to the besieged nation has created an effective proxy war between some of the world's biggest military powers. Meanwhile Russian President Vladimir Putin continues to threaten severe retaliation against Ukraine's allies, including threats to use his tremendous nuclear arsenal. (also read: here are the countries with the most nuclear disasters.) 
Depending on the country, the fear of large-scale global conflict varies. A recent survey, conducted by global market research firm Ipsos on behalf of the Halifax International Security Forum, found that 73% of people surveyed in some of the world's largest countries believe that in the next 25 years, a major global conflict similar in scope to the World Wars is likely to occur. That represents a substantial increase from 2021, when that figure was 63%.
Ipsos surveyed over 32,000 adults in 33 countries. The countries listed here are ranked by the percentage of recipients who responded "somewhat agree" or "strongly agree" to the statement: "I expect in the next 25 years we could see another world conflict involving superpowers similar to World Wars 1 & 2." In addition to listing the survey results, 24/7 Wall St. added military spending as a percentage of a country's gross domestic product and per capita military spending, adjusted for 2021 U.S. dollars, from the Stockholm International Peace Research Institute Military Expenditure Database. 
The conflict between Russia and those aiding Ukraine is not the only source of rising geopolitical tension. China has increased its threats against Taiwan, with record military incursions over the self-ruled island, which it claims as its territory. There are fears that military action by China to assert control over Taiwan could spark a U.S.-China war. Relations between the two superpowers are already somewhat tense, heightened after Nancy Pelosi, who at the time was the Speaker of the U.S. House of Representatives, visited the island nation. In retaliation, China conducted the most intense military training exercises near Taiwan. (Also see, the U.S. government is involved in secret wars in 15 countries.)
Interestingly, despite this raised tension, China has one of the lowest shares of people reporting expectations of a global conflict in the near future, at 64%, tied for fifth-lowest among the 33 countries surveyed. Of the world's three largest superpowers, Americans are the most likely to believe World War III is imminent, at 76%. Russia was not included in the survey, but 70% of Ukrainians believe the same.
Click here to see the world powers most worried about World War III.