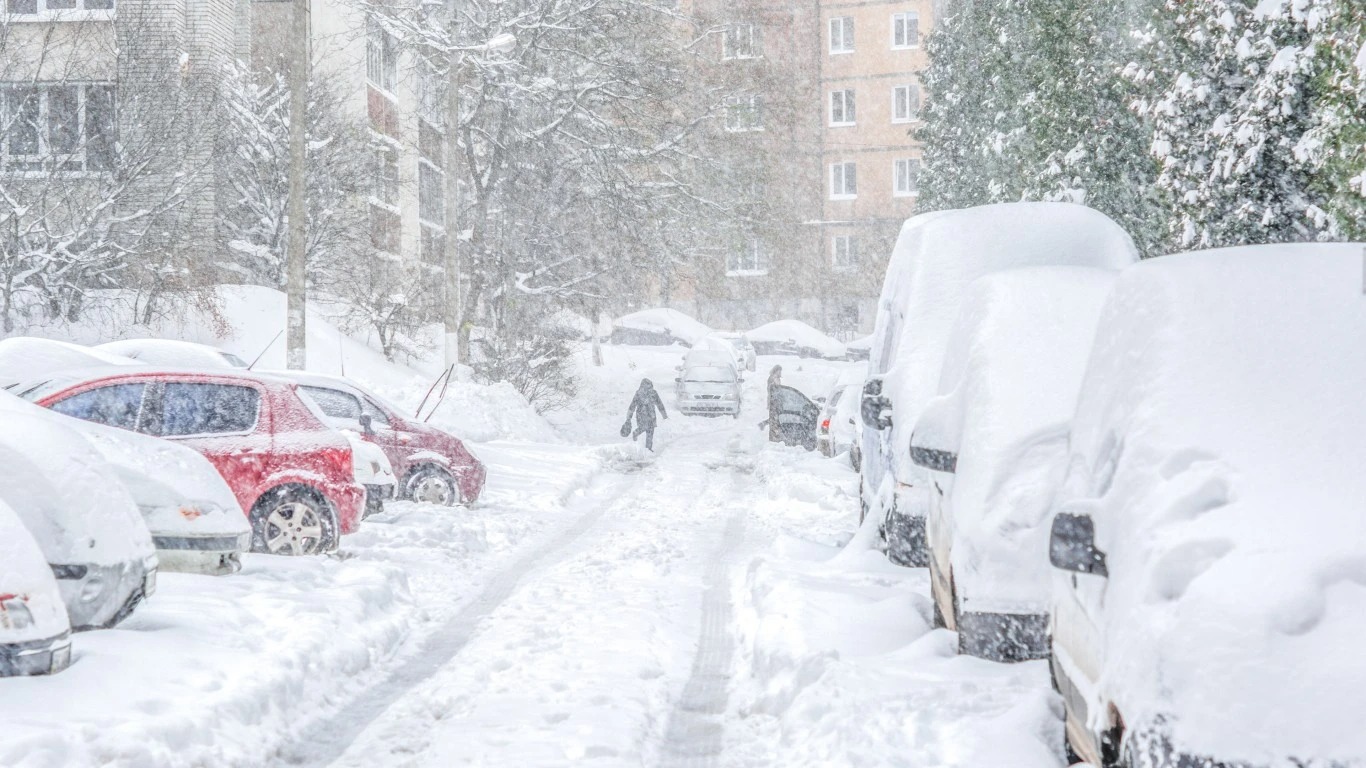 Treasury Secretary Janet Yellen's warning this week that climate change is already taking a significant toll on the U.S. economy was no surprise to anyone living in California, or New York this winter. Massive storms costing billions of dollars in damages have hit both states, from Buffalo up north to Los Angeles down south.
In the past two weeks alone, while traveling for Callaway Climate Insights from California to New York, and to London this week, I've been snowed on in all three places.
But travel schedules are the least of our worries. Yellen said that in the past five years, the U.S. economy has averaged 18 climate disasters a year costing more than $1 billion, more than twice the average of eight disasters a year over the last four decades. From the deep freeze in Texas and wildfires in California to sunny-day flooding in Florida, these disasters are reflected in higher insurance premiums, or worse, a withdrawal by insurers from certain volatile areas.
"These impacts are not hypothetical," Yellen told Congress' Climate-related Financial Risk Advisory Committee. "They are already playing out." Yellen said worsening conditions would lead to declining asset values that could "cascade" through the financial system. Cascading is a polite term for systemic risk.
Indeed, investors and professional asset managers don't see climate risk as some 'woke' pathway to imposing cultural ideologies on Americans, as some red state leaders charge. They simply see it for what it is — risk.
Latin America is still the Wild West of carbon markets
. . . . With only a handful of countries in Latin America imposing carbon taxes, and only Mexico using a carbon exchange trading system, Latin America has built a reputation for itself as the Wild West of carbon offsets, writes Michael Molinski. In a region where deforestation, particularly of the Amazon basin, leads to global climate dangers, getting a regulatory handle on the use of carbon offsets and their effectiveness could not be more important. Which is why the health of mangrove plants has suddenly become a regional hot-button issue. . . .
Book review – The Amur River: Between Russia and China
. . . . In his review of Colin Thubron's new book, 'The Amur River: Between Russia and China,' former foreign correspondent Jack Hamilton recalls his days covering the breakup of the USSR and the complete environmental devastation he witnessed in some of the industrial areas of the empire. In Thubron's book, a classic adventure travel tale of his voyage along the 2,826-mile river through Russia, China and to the Pacific Ocean, Hamilton highlights scene after scene in the story of beautiful, pristine wilderness alongside toxic industrial sites, with China no better than Russia in most instances. Thubron's own thoughts are revealing in that he has seen so much, but more important, the book is a strong warning that even our most out-of-the-way places these days are subject to the horrors of man-made pollution. . . .
The missing words in Ron DeSantis' new memoir
. . . . Readers of Ron DeSantis' new book won't find a lot about climate change, though they will get a healthy dose of anti-ESG sentiment as the Florida Governor makes his case to go up against former President Donald Trump for the Republican nomination next year, writes Bill Sternberg in Washington D.C. As leader of one of America's most climate-prone states, DeSantis is no stranger to playing defense against environmental disasters, which does set him apart from Trump. But his insistence on using ESG as a club with which to punish "woke" ideologists holds him back on playing offense, which is the more important mitigation for disasters to come. . . .
Thursday's subscriber-only insights
. . . . This year's CERAWeek gathering of energy execs in Houston comes at a time when the fossil fuel industry is at a crossroads. It reaped huge profits last year because of the reverberations of the Ukraine war, something that has slowed its transition to renewables (BP is a prime example). At the same time, oil prices are down again (though may go up due to Chinese demand), a fact that will no doubt lead energy bosses to think about a renewable future, something being urged by Abu Dhabi's chief oil man, who is also to be the president of COP 28. Read more here. . . .
. . . . Here's someone worth listening to — John Ketchum, CEO of NextEra Energy $NEE , which is both the world's largest producer of renewable power and the largest electric utility holding company by market capitalization. And he says that offshore wind is a bad bet due to the complications of installing and maintaining infrastructure at sea and the high cost of transmitting electricity back to shore. Will he be proved wrong or right? Read more here. . . .
No carrots, no comment from California refinery
. . . . Some San Francisco Bay Area residents have been told to hold off enjoying their spring crops like peas, carrots and lettuce because they may be contaminated with heavy metals "inadvertently showered" on gardens by a nearby refinery. Health officials from Contra Costa County, home to more than a million people on the east side of the San Francisco Bay, told residents this week that on Nov. 24 and 25, "the Martinez Refining Company inadvertently showered surrounding neighborhoods with more than 20 tons of spent catalyst, a dust-like substance that CCH later determined to contain elevated levels of aluminum, barium, chromium, nickel, vanadium and zinc." Martinez Refining Company is owned by PBF Energy $PBF . County officials said "there is no immediate threat to the community." But they also told residents to not eat "anything grown in soils exposed to the spent catalyst" and added it's "always better to be safe than sorry." San Francisco TV station KTVU reported a spokesperson for the Martinez Refining Company said it received the health department's news release. Part of a statement to KTVU says: "MRC is cooperating with all agencies and agency investigations regarding the November 24, 2022, spent catalyst release. While this incident is still under investigation, we have no further comment at this time.". . .
Editor's picks: Disaster warning prioritized; historic UN marine protection treaty
WMO's Executive Council has endorsed UN #EarlyWarningsForAll initiative as a top priority.
We will work with partners to try to ensure that everyone is protected by life-saving early warnings in the next 5 years.
🔗https://t.co/AN5IbQ8gZP pic.twitter.com/hepeKuyMcR

— World Meteorological Organization (@WMO) March 7, 2023
Vistra acquires Energy Harbor
Texas utility Vistra $VST said this week it reached a $3.4 billion deal to buy Energy Harbor Corp. (ENGH), a nuclear power company in Ohio. Utilitydive.com reports the deal helps Vistra capitalize on federal tax credits to move more deeply into nuclear energy. The agreement combines the nuclear and retail businesses of both companies with Vistra Zero renewables and storage projects in a newly formed subsidiary holding company, Vistra Vision, Vistra said in a statement, adding that the transaction would create the second-largest competitive nuclear fleet in the U.S.
Agreement reached on historic marine protection treaty
For the first time, UN member countries have agreed on a unified treaty to protect marine biodiversity and ocean life. The U.N. Convention on the Law of the Sea was established in 1992, and the treaty agreement was finally reached last weekend at the end of  two weeks of talks in New York. The treaty, The Associated Press says, represents "a turning point for vast stretches of the planet where conservation has previously been hampered by a confusing patchwork of laws." Nichola Clark, an oceans expert at the Pew Charitable Trusts who observed the talks in New York, told the AP the long-awaited treaty text is "a once-in-a-generation opportunity to protect the oceans — a major win for biodiversity."
Human capital and climate change
Addressing climate change requires individual behavior change and voter support for pro-climate policies, yet surprisingly little is known about how to achieve these outcomes. In this National Bureau of Economic Research working paper, titled Human Capital and Climate Change, the authors estimate causal effects of additional education on pro-climate outcomes using new compulsory schooling law data across 16 European countries. From the abstract: "We analyze effects on pro-climate beliefs, behaviors, policy preferences, and novel data on voting for green parties — a particularly consequential outcome to combat climate change. Results show a year of education increases pro-climate beliefs, behaviors, most policy preferences, and green voting, with voting gains equivalent to a substantial 35% increase." Authors: Noam Angrist, University of Oxford, Blavatnik School of Government; Kevin Winseck, University of California San Diego; Harry A. Patrinos, World Bank; and Joshua Graff Zivin, University of California, San Diego Graduate School of International Relations and Pacific Studies; National Bureau of Economic Research.
Words to live by . . . .
"In the depth of winter, I finally learned that there was in me an invincible summer." — Albert Camus.