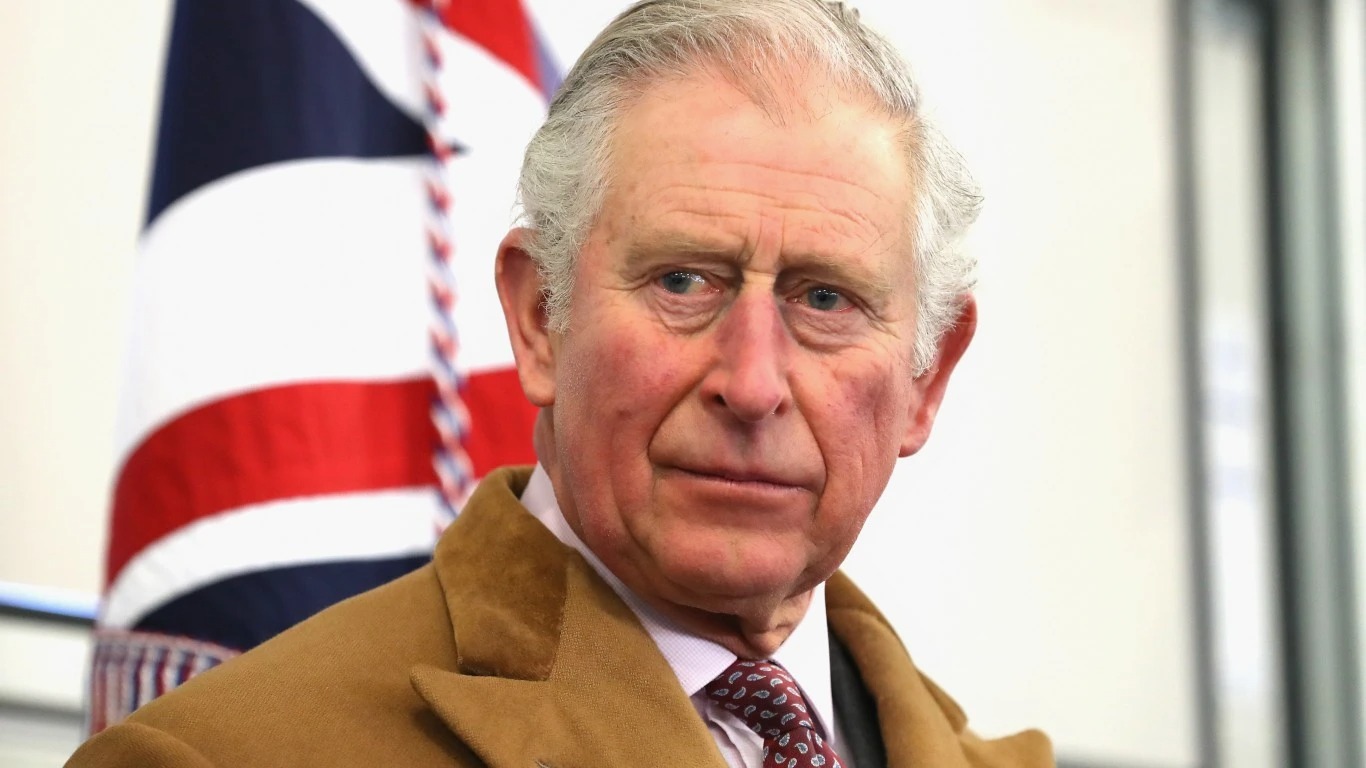 Much is being made of King Charles's environmental background as he prepares for his coronation this weekend, but all of it ends with the caveat that he has no actual power to achieve anything because of the political limitations of his new role. I respectfully disagree.
King Charles, who's waited his entire life for the opportunity to be monarch, and who only has a small window of time in which to make a difference on his favorite passion — the environment — won't waste it on the advice of royal counsel. For the next decade or so he will be the leading climate celebrity in the world, at a time when the world will be literally screaming for leadership.
To, uh, abdicate that role just for the chance to play king for a while would be to waste decades of effort on the environment, most of it in the face of ridicule and criticism from those who now have come to see he was right all along. Political limitations are made to be pushed, and there are no politicians in Britain strong enough right now to stop him from setting up shop as the conveyer of all climate networks and strategies.
I'm no monarchist, although I will be watching the highlights this weekend, and all the environmental hoopla that goes with them. Once they are over, I think we'll be surprised how focused he becomes on his mission, and his legacy.
Against the better judgment of probably half the world, he's being given one shot at a role just about anyone could only dream of. For a few years. They just happen to be the most important years his country or any other country ever lived through in terms of global warming. As they say in Britain, cometh the hour, cometh the man.
Zeus: Grant Canary's wildfire recovery startup reborn as biodiversity gets hot
. . . . Grant Canary started his wildfire recovery company seven years ago as a high-tech climate solutions play using drones to reseed trees on land scorched by massive fires in the U.S. West. Along the way, he found an even more pressing problem, and shifted his company — originally called DroneSeed and now called Mast Reforestation — into the bigger business of reseeding the planet, writes David Callaway in his Zeus column. As investor interest in biodiversity solutions surges this year, Mast is in a unique position as one of the early plays in an industry that is certain to, um, grow. . . .
Thursday's market insights
Is Tesla's flip-flopping on prices worth the attention?
. . . . Tesla $TSLA raised prices on some of its models this week, but only a bit. After several steep price cuts in recent months, and statements by Elon Musk after earnings last month supporting the price cuts, the company tweaked a bit higher, then higher again. Perhaps it has to do with consumer anger for those who bought their Tesla's at full price last year, but analysts and social media followers argue it has more to do with inventory backlogs building again.
Whatever the reason, the trend in all EV prices is down. Ford Motor $F just cut prices on its Mustang Mach-E this week for a second time. And others are coming in with price cuts as well. Musk and Tesla kicked off the price war last year, and federal subsidies in the government's climate plan are also helping attract buyers. Tesla's shares have recovered in recent months from last year's drubbing, so the price cut plan does seem to be working. While it's impossible to predict what Musk will do week-to-week, or hour-to-hour, it's a fair bet the general direction of cheaper prices still holds. Read more here. . . .
Another SEC climate disclosure delay?
. . . . Reports out yesterday that the SEC will further delay its much expected and hotly controversial climate disclosure rule, this time until the fall. A former commissioner, Robert Jackson, reportedly told a webinar last week he was hearing SEC Chair Gary Gensler and team were seeking to delay the rule, which had been expected in April, for a second time.
Such delays over the rule, which will now come well after Europe passes a similar rule this summer, indicate that there is no consensus among SEC commissioners, and concern it would do more harm than good coming out at this time. As the European rule will affect U.S. companies doing business in Europe and is much more stringent in reporting requirements, it is possible Gensler wants to see how that develops first. Europe could always waive U.S. requirements if the U.S. ones were stringent enough, so that is a possibility.
Or, it could just be Gensler and the SEC are wary about implementing such a controversial rule at a time when financial markets are extremely fragile. Whatever the answer, someday it will make a great story. Stay tuned. . . .
The EV reason Biden got snubbed by one of his closest allies
. . . . News comes that the UAW is holding off expressing support for President Joe Biden, saying his push for EVs will harm its members. Why? Because EVs require less labor to make. And, eventually, they will be cheaper than fossil fuel-powered cars, something already happening in China, where many EVs are priced under $10,000. It can stamp its feet, but eventually the union will have to get with the program. Read more here. . . .
Salesforce unveils new Green Code for sustainable software developers
. . . . While three-quarters of software and UX designers say they want to develop software programs that do less harm to the environment, more than half are not using energy efficient programming languages, often because their superiors do not believe in the benefits, according to a new survey by Salesforce. The company this week unveiled a new initiative called Green Code to reduce carbon emissions tied to software development and licensing, and a series of sustainability best practices.
Many tech companies talk the climate talk, even raise money to invest in climate solutions, but do little to control the vast emissions from their own products. Software development is one area that has received little sustainable attention to date, so when a company such as Salesforce adapts plans like this, it will gain the attention of the industry, not to mention developers who might be looking for their next gig. . . .
Editor's picks: Norway's speedy EV transition; plus, the FCC's role as environmental guardian
The number of electric car models is rising around the globe, with 5️⃣0️⃣0️⃣ different models now available.

This is more than double the options seen in 2018, and has been driven by a strong expansion in offerings for SUVs & other large cars.

More ➡️ https://t.co/1jyw4TuAeR pic.twitter.com/KPec9IguSv

— International Energy Agency (@IEA) May 2, 2023
Norway's plug-in EV market share jumps again
Norway increased its share of the plug-in EV market to 91.1% in April 2023, up from 84.2% in the same period a year ago. Cleantechnica reports the bestselling vehicle was again the Tesla Model Y. This is the first time Norway has seen three consecutive months with combined plugin share staying above 90%. According to the report, all other powertrains lost volume year-over-year, with gasoline-only vehicles at their second lowest volume of the modern era and third lowest share ever, just 1.25% of the auto market. "As we noted for the neighboring Swedish market, plugless hybrids (HEVs) are now passé in Norway, such is the country's advanced stage of the EV transition."
The FCC as environmental guardian?
Is the Federal Communications Commission an environmental cop? It is, actually, even those most people don't think it is, and it may not be doing a very good job of protecting us and our world. Peter Elkind writes in a report for ProPublica about the FCC mandate to safeguard the environment from damage caused by communication infrastructure. "But when companies want to add new cell phone towers, build on protected land or launch satellites, the agency typically does little or nothing," he writes. According to the report, The agency operates on the honor system, delegating much of its responsibility to the industries that it regulates. It allows companies to decide for themselves whether their projects require environmental study. Read more in this extensive report, including about the Silicon Valley space startup that "wanted to equip thousands of satellites to use mercury fuel in orbit, even as an Air Force official at one of the possible launch sites voiced extreme concern that the toxic element could rain back down to earth."
Explain that: Net zero emissions
. . . . We hear a lot about net zero emissions, but what exactly is that? The UN's Intergovernmental Panel on Climate Change says: Net zero emissions are achieved when anthropogenic emissions of greenhouse gases (That is, emissions of greenhouse gases, precursors of GHGs and aerosols caused by human activities) to the atmosphere are balanced by anthropogenic removals over a specified period. Where multiple greenhouse gases are involved, the quantification of net zero emissions depends on the climate metric chosen to compare emissions of different gases — such as global warming potential, global temperature change potential, and others, as well as the chosen time horizon. . . .
Words to live by . . . .
"Any difficulties which the world faces today will be as nothing compared to the full effects which global warming will have on the worldwide economy." — King Charles III.