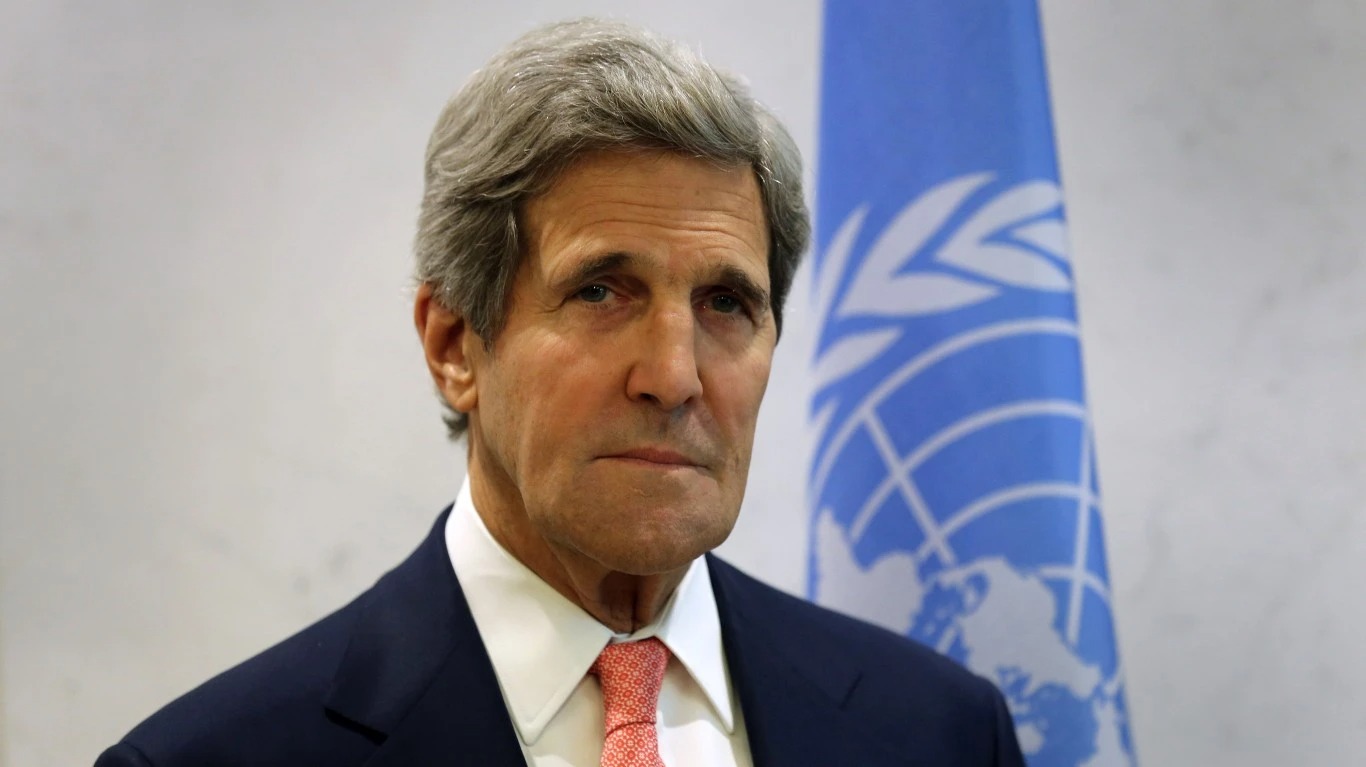 In today's issue:
— John Kerry just signed up for a global climate fund that could cost trillions. Where will he get the money?
— Electric vehicle sales in the U.S. are surging even more than expected. Here's who will benefit.
— Climate activists have stepped up their attacks on artwork, with a new catch.
— What will Buffalo, NY do with seven feet of snow that fell over the weekend? There is a plan.
Pity John Kerry. Trapped in a hotel room in Egypt with Covid, he had little choice but to accede to the demands of small and vulnerable nations at the COP27 climate summit over the weekend and agree to U.S. participation in a massive climate reparations fund to help protect them from global warming.
Especially after the European Union, his last supporter, turned on him at the last moment. Left until next year's COP28 in Dubai were all the messy details about where the money will come from and who will actually pay. But it's a safe bet it's not going to come from U.S. taxpayers ahead of a presidential election in 2024. Or any Western taxpayers, for that matter.
Fortunately for Kerry, there is a solution to the dilemma right in his backyard in Washington D.C. As the only real way to finance such a fund will come from public/private partnerships, President Joe Biden's climate czar can now be expected to fully turn up the heat, pun intended, on the World Bank and International Monetary Fund when he recovers and gets home.
The World Bank, which loans about $20 billion a year to poor countries already, is ripe for climate reform after current President David Malpass emerged as something of a climate denier a few months ago. Kerry can be expected to lead an international push among World Bank shareholders for new leadership next year and a dramatic escalation in loan leverage to help find new funding for poor countries.
Kerry said in Egypt he wants a plan from the World Bank, IMF, and other development banks to overhaul themselves and "unleash hundreds of billions" in funding by April, which is conveniently when the two Washington-based agencies have their spring meetings in the U.S. capital. Spring meetings are usually sleepy affairs. Expect that to change this time.
Tuesday's subscriber-only insights
. . . . We wrote about it earlier this year — how sales of electric vehicles in the U.S. appeared to have reached a tipping point of about 5% in the first quarter. That figure has now exploded, with the Electric Drive Transport Association reporting that EV purchases rose to 7% in the second quarter alone and that sales are up 41% this year.
And that is putting a smile on the face of automaker executives, with General Motors GM CEO Mary Barra, according to a company news release, predicting that her company's EV portfolio will be profitable in 2025. "Total company revenue is expected to grow at a 12% compound annual rate through 2025," according to the statement, "reaching more than $225 billion as EV volumes and software revenue grow. Revenue from EVs is expected to be more than $50 billion in 2025."
What the statement doesn't mention is one of the key reasons EVs are set to be so profitable: They are cheap to build and getting cheaper. First, there are fewer moving parts — no complicated internal combustion engines to put together, for example. Second, their most expensive component, the batteries, are getting cheaper as economies of scale increase and new factories, some of them built by domestic car manufacturers, come online. In that regard, the automaker said that it plans to reduce its Ultium battery cell costs to $87/kWh in 2025 and below $70/kWh by later in the decade.
Barra, meanwhile, gives considerable credit to the tax incentives provided by President Joe Biden's climate-focused Investment Reduction Act, which passed in August. "It's clear these credits are going to help usher in a new era of technology innovation and job creation that's going to achieve what was intended," she said. "It will be good for the American economy. It'll be good for American families. It'll be good for the environment, and frankly, General Motors is well poised."
The resulting revenue projections are impressive, with the company predicting a 12% compound annual growth rate to more than $225 billion, including $50 billion from EVs, in 2025. Also likely up, GM says, will be profit margins, which are on the way to achieving 12% to 14% levels amid annual revenue of $280 billion by 2030.
And with Ford F especially bullish over sales of its all-electric F-150 Lightning pickup truck and also sending positive signals about EV-driven profitability, it seems like Detroit — along with Elon Musk's market-leading Tesla TSLA — are hitting their next-generation stride.
. . . . Hyundai-Kia is an electric vehicle maker you can't ignore. First, it was Tesla — way ahead of the pack — that grabbed all of the electric vehicle headlines. Then General Motors made news with its compact Chevrolet Bolt, a car with a price point that put it in reach of less-than-wealthy buyers. And then came Ford, especially with the May 2021 introduction of its F-150 Lightning pickup truck, which has gone on to garner a huge number of orders.
The dark horse in the pack, though, is South Korean giant Hyundai/Kia, which, according to figures from Experian cited by InsideEVs.com, is now second to Tesla in American EV sales, with its Hyundai Ioniq5 and Kia EV6 both selling strongly. Sales were also healthy for the EV version of Hyundai's premium brand, Genesis. Read more below on how Hyundai/Kia leads the EV nominations in the 2023 North American Car, Truck and Utility awards, which will be announced in Detroit in January. And now the company appears to be treading further into Tesla's territory, The Verge reports, with the announcement of Hyundai Home, a marketplace launched last week during the Los Angeles Auto Show that enables buyers to pick a home battery storage solution and a home EV charging system in one location, a process that in some ways mirrors Tesla's model.
Unlike Tesla, though — and an upcoming version from GM — Hyundai isn't selling its own wares, instead partnering with other vendors, such as ChargePoint CHPT 0.00 for at-home charging stations and Enphase Energy ENPH 0.00 for home batteries. "A big piece was speed to market," Hyundai's senior group manager of strategic environmental partnerships Ian Tupper told The Verge. "We recognize that there's a need for this market and that there are companies that provide great products out there already." In addition, Hyundai has solar panels to the mix, working with maker Solaria, and also including home-power broker Electrum, who help organize systems for customers, including helping make sure that all relevant federal, state, and local incentives are applied to the purchase price of a setup, such as tax breaks under the recently passed Inflation Reduction Act.
"New Thinking, New Possibilities," is Hyundai's current slogan. It seems like they mean it.
Editor's picks: Thanksgiving, EVs climb award rankings, and activists target art
EVs lead list of finalists for key industry awards
Electric vehicles are overtaking the list of finalists for 2023 North American Car, Truck and Utility Vehicle of the Year Awards, taking six of the nine spots, Mark Phelan reports for the Detroit Free Press. And all three finalists for Utility Vehicle of the Year are EVs. They are the Cadillac Lyriq, Genesis GV60 and Kia EV6. The Chevrolet Silverado ZR2, with its gas engine, Lordstown Motors' Endurance, and Ford's F-150 Lighting, both EVs, are finalists for Truck of the Year. The finalists for Car of the Year are the Acura Integra, Genesis G80 EV and the Nissan Z. Phelan notes four of the finalists are produced by U.S.-based companies. Korea's Hyundai-Kia has three vehicles among the finalists, but none of the finalists are from European brands.
Latest in climate activists attacking artwork
Climate activists went after artworks in Paris, Milan and Oslo Friday. ArtNews reports these actions differed from previous events in that they were done simultaneously and they targeted artworks not protected by glass. The members of organizations working under the umbrella group A22 Network threw orange paint or flour on three sculptures. In the front entrance to the Bourse de Commerce – Pinault Collection museum in Paris, two members of the French group Dernière Rénovation doused Charles Ray's stainless-steel sculpture Horse and Rider with orange paint. In Milan, members of Ultima Generazione covered a BMW art car painted by Andy Warhol with bags of flour. In Oslo, the group Stopp oljeletinga poured paint on Gustave Vigeland's sculpture Monolith. According to the report, none of the pieces were damaged, although some are being assessed for additional cleaning and treatment.
Subscribe to Callaway Climate Insights to keep reading this post and get 7 days of free access to the full post archives.