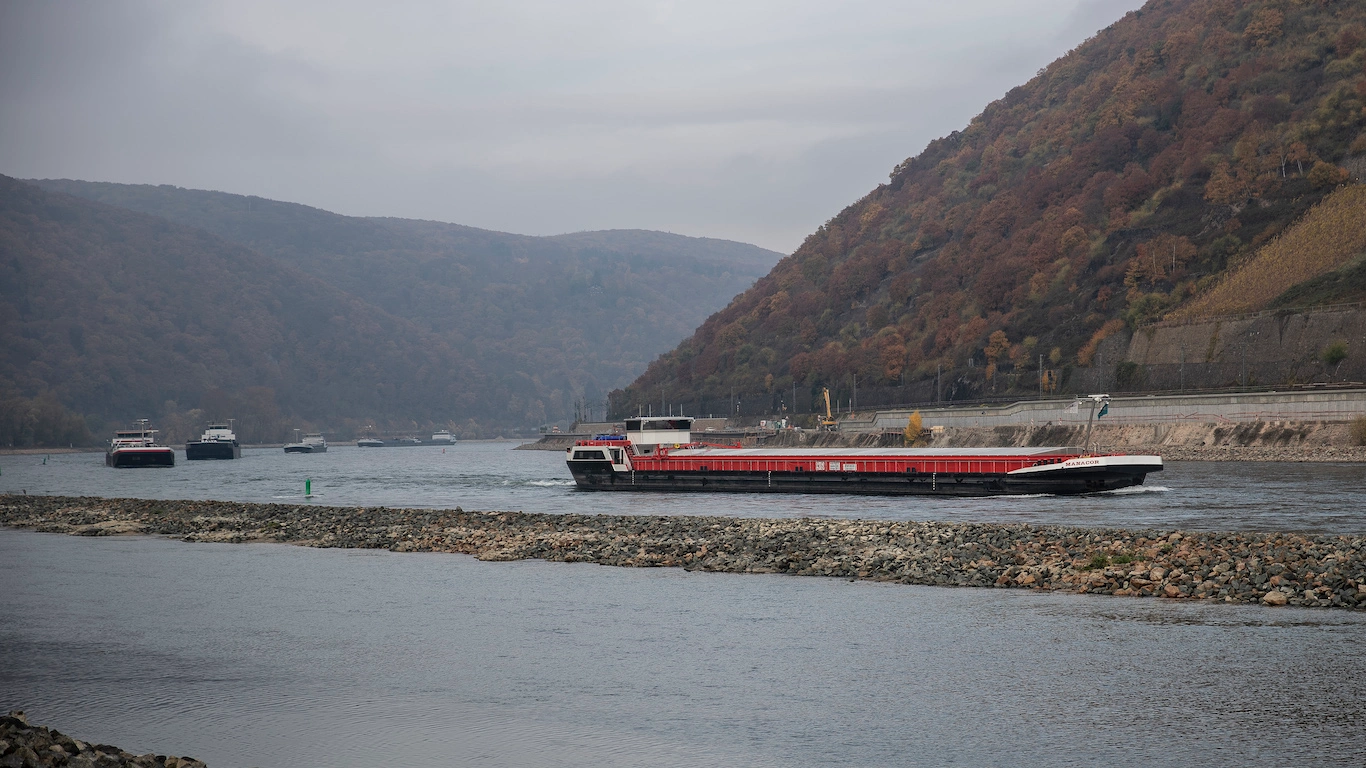 This summer's twin paradoxes of massive flooding and receding rivers and reservoirs opened a dangerous new channel this week with news that some $80 billion in economic trade along Germany's Rhine River could soon be impeded as shallow waters prevent ships from carrying oil and gas to energy-staved Europe.
Rivers and reservoirs drying up aren't just about drinking water, irrigation for farmers, or even dead bodies as we've seen outside Las Vegas at Lake Mead. They are about hydroelectricity sources to millions, and even more important, vital, economic, river bound trade — especially in emerging markets.
While the Rhine is the largest water trade route inside Europe, most of the biggest trading rivers are in Africa, India, Asia and South America. Consider the Nile, the Yangtze in China, the Amazon in South America, the Ganges in India, and not to mention the Mississippi in the U.S. responsible for more than $14 billion in goods and services last year. All are at some stage of drying up.
Indeed, in Germany we're about to reach the absurd precedent of climate change actually preventing us from hurting ourselves and the world by shipping more fossil fuels. Even as we are hit by worse and worse flash flooding from rainstorms, the drying of our rivers and lakes is about to cause a water shortage that will change our economies in ways that we still can't predict.
A risk manager's nightmare for sure. Especially this week in the European shipping trade.
More insights below . . . .
Zeus: The coming takeover battles for the climate transition
. . . . What if one of the oil giants made a takeover bid for a large wind or solar company? It could happen in today's market, with most stocks down and oil companies spinning off massive amounts of cash because of higher prices this year. David Callaway looks at the implications for investors, regulators, and politicians from what would be a very new type of energy transition. . . .
A selection of this week's subscriber-only insights
. . . . The U.S. solar industry basically consists of two parts: The people who erect solar arrays — on fields and homes — and those who make solar panels. The latter is relatively tiny while the former has been struggling with supply issues. Can incentives from the Inflation Reduction Act help increase domestic production and thus end the shortages that are impacting installers? We check it out. . . .
. . . . The U.S. has been late to the offshore wind power arena, but now it looks like it's going to take off big time. First, East Coast projects continue apace and now the new climate act is opening vast areas with massive potential. Will it really happen? The examples in Europe suggest it will as well as the cost-benefits. Read more here. . . .
. . . . Three of the biggest renewables deals yet were announced this week wherein one of America's largest cities and two global companies plan to be 100% renewable by 2025. It's a dramatic acceleration of the transition to clean energy by the places where we live and work. Can it actually happen in time? It's part of an emerging pattern where the call by companies and cities to use renewables is driving the renewables industry. Read more here. . . .
. . . . A Swiss multinational has produced the world's first clinker made entirely of recycled minerals — a giant leap on the road to recycled concrete, which in turn is critical to cutting the great carbon intensity of the cement and concrete industry. Read more here. . . .
. . . . Rock the vote! Gizmodo unveils its "biggest climate ghouls" of the upcoming midterms, including some rather amazing scientific learnings from Georgia Republican Senate candidate Herschel Walker. Check it out. . . .
Editor's picks: Wilder weather, flood insurance fails and sustainable debt
Few in flood-ravaged Kentucky have insurance
Fewer than 2,500 property owners in much of eastern Kentucky devastated by damaging floods in the past few weeks have coverage through FEMA's National Flood Insurance Program, an
E&E News analysis
 of federal records shows. 
E&E News reports
 that's about 2.3% of households in the 10-county area. The report cited 
Britney Hargrove
, a spokesperson for hard-it Knott County, as saying many Kentucky residents decline to buy flood insurance because they think the premiums are too expensive and the risk of flooding to small. "A lot of families don't have that extra money to pay for something that may or may not happen," Hargrove said. E&E News notes that flood insurance costs an average of about $1,000 a year through FEMA. The median household income in Knott County is $32,500, or half the nationwide median of $65,000.
Sustainable debt issuance declines
This could be the first year that sustainable debt issuance is not higher than the year before, according to a report from BloombergNEF. Unless there is an increase in the second half, a dip in issuance is expected this year, the
latest outlook
 says. "Nearly $750 billion of sustainable debt instruments — including sustainability-linked bonds, green bonds and green loans — were issued in the first half of 2022. The comparable number last year was $900 billion." 
Kyle Harrison
, head of sustainability research at BNEF, says, "There are two factors driving the slowdown. Concern over greenwashing is dampening sentiment, and so is the wider macroeconomic environment of rising interest rates."
Companies coping with loss from extreme weather events
The authors of this paper titled
How do firms cope with losses from extreme weather events?
 document the investment and financing decisions of firms that experience monetary losses due to extreme weather events. Their sample covers firms operating in 41 economies, mainly emerging and developing markets. According to the abstract, consistent with the need to either replenish damaged capital or adapt to climate change, firms hit by extreme weather are more likely to invest in long-term assets. In addition, they are more likely to integrate climate-friendly measures in their production processes. Although these firms have higher needs for bank credit, they are not more likely to be credit constrained than the average firm. Nonetheless, they face higher loan rejection rates and they are more leveraged than otherwise comparable firms. This suggests that climate change has the potential to erode the quality of firm balance sheets over time. 
Authors: Emanuela Benincasa, Swiss Finance Institute, University of Zurich Department of Banking and Finance; Frank Betz, European Union, European Investment Bank; and Luca Gattini, European Union, European Investment Bank.
Words to live by . . . .
"There are moments when all anxiety and stated toil are becalmed in the infinite leisure and repose of nature." — Henry David Thoreau.