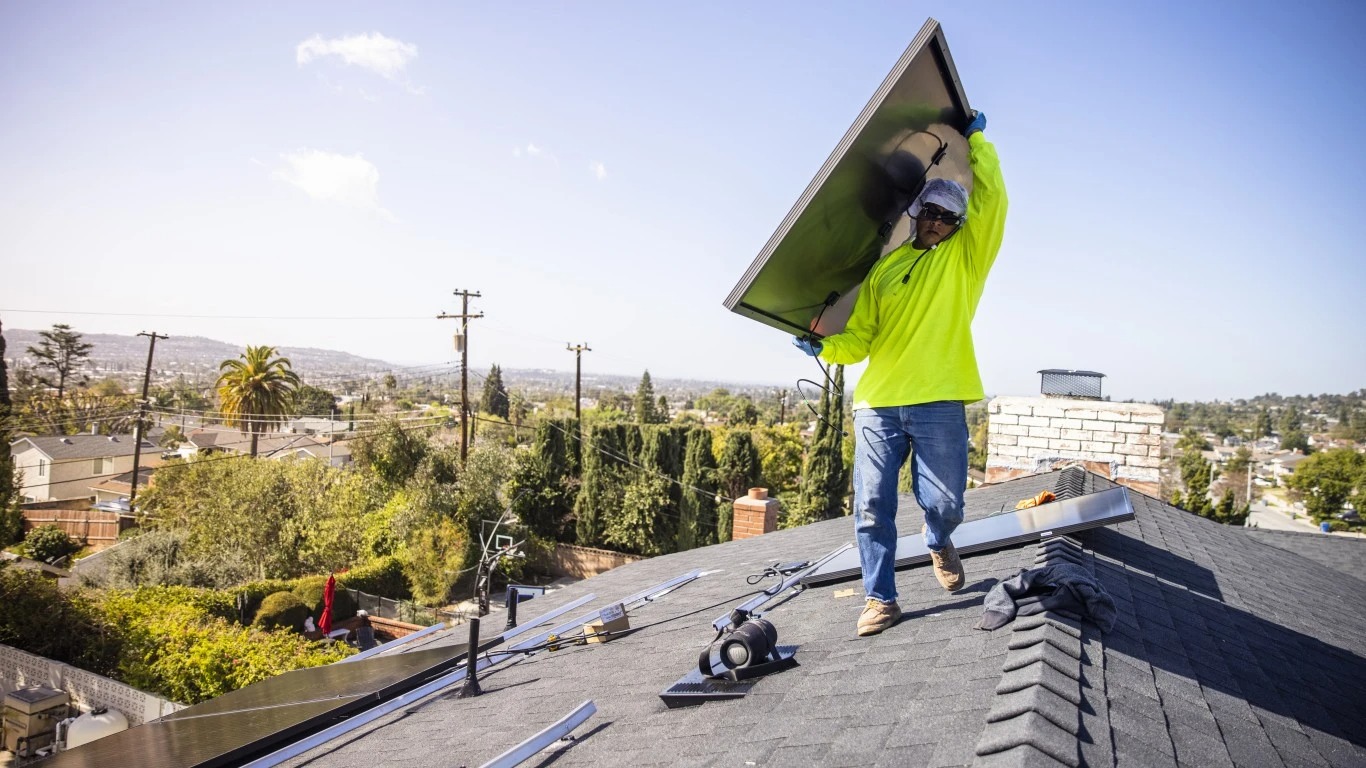 Defying supply chain disruptions and macroeconomic headwinds, 2022 energy transition investment jumped 31% to draw level with fossil fuels, according to a report out today from BloombergNEF. The report shows global investment in the low-carbon energy transition hit a new record total of $1.1 trillion in 2022 as the energy crisis and policy action drove faster deployment of clean energy technologies. In another first, the report says, investment in low-carbon technologies appears to have reached parity with capital deployed in support of fossil fuel supply.
---
The anti-ESG backlash from red-state Republicans making international headlines isn't having much impact on the corporate world's rush to find sustainability talent or for that matter its focus on environmental, social and governance (ESG) strategies, according to an A-list panel of sustainability hiring executives and private equity leaders I moderated yesterday.
"The capital flows are still flowing to ESG," said Paula Luff, director of ESG at DSC Meridian Capital, adding that companies that move themselves notably away from sustainability practices "are going to lose in the war for talent."
Indeed, the war for talent is only set to intensify, according to the other panelists, Jennifer Skylakos, managing partner of the sustainable infrastructure and energy practice at executive search firm DHR Global; and Heidi DuBois, global head of ESG at AEA Investors. While the number of chief sustainability executives has ballooned in the S&P 500 to more than half from only about 70 three years ago, the vast majority were older men who moved over from other positions in their companies.
Part of the issue is that senior sustainability jobs are so new, with most hired in 2021 and 2022, that the pool of available talent is still quite small, and hugely expensive, the panelists said. So many companies simply add it to the responsibilities of an existing executive. As sustainability starts to flow down through companies, the market for new talent is going to boom, they said.
The name of the panel, attended by more than 100 sustainability investors and executives, was "The Rising Importance of Sustainability and its Impact on Talent Teams." It was hosted by BoardEx, the relationship mapping company now owned by Altrata, and once owned by my former company, TheStreet, Inc. BoardEx also supplied the CSO data referenced above.
The panelists, a brilliant cross-section of ESG experience and talent insight, also addressed the role of corporate boards and the challenges of building a sustainable structure inside your company. You can listen to the audio recording here.
Latin America stocks in reversal of fortune start year with gains in renewables, ESG shares
. . . . In the U.S., there is a market theory called 'Dogs of the Dow,' which holds that the worst-performing stocks in the Dow Jones average will be the best the following year. Sometimes it works, and not just in the Dow. Three weeks into the year, the big gainers in Latin America last year — the oil and gas companies — are slumping as renewable and ESG stocks retake the limelight, writes Michael Molinski. Part of it may be falling gas prices. Part is tied to new Brazil President Luiz Inacio Lula da Silva. But it's worth noting, as January trends often dictate the year. Molinski has the winners and losers to date. . .
This week's subscriber-only insights
New battery source for tidal energy
. . . . One technology that could power the whole planet without the unpredictability of solar and wind? As we have reported several times, there's tidal; and now a new source is being examined: gravity batteries using the huge number of abandoned mineshafts around the world. Read more. . . .
Manchin's maneuvering to slow EV tax credits strategy
. . . . Sen. Joe Manchin's (D-W. Va.) latest attempt to hijack President Joe Biden's climate strategy seems more of an irritant than a full-scale attack. Manchin threatened to introduce legislation earlier this week that would halt consumer tax credits on electric vehicles unless the Treasury fulfills a promise to provide guidance on how much of the minerals used in the batteries need to be from the U.S.
The Treasury has most likely delayed pinning itself to a percentage because of the firestorm of controversy in Europe around the tax credits. Manchin is now applying pressure from the other side. Like it or not, the government needs to put a number down and stick to it. And damn the torpedoes. . . .
Chevron doubles down on fossil fuel hubris
. . . . It's hard to see Chevron's $CVX declaration of a $75 billion stock buyback and increased dividend this week as anything other than a nose-thumbing to President Biden after he asked U.S. oil companies last year to put their resources into lowering gas prices for American consumers.
With oil prices holding steady at about $80 a barrel, there was plenty of room to do something other with all Chevron's excess cash than funnel it back to executives and shareholders, particularly with renewable energy investments booming across the country.
We'll know more when the company's earnings come out on Friday, but all signs are pointing to another bonanza on the back of higher oil prices. Such hubris is always worth pointing out for remembering when fortunes turn in the future. With Chevron's rivals in Europe increasingly moving into the renewables space, the company is looking more and more like the last dinosaur in the tar pit. . . .
Tesla's not dead yet
. . . . Time to put away those Tesla $TSLA obituaries. Shares of the electric car giant leaped more than 8% after Elon Musk's company reported record revenue and profit, and a 31% increase in vehicles sold, to more than 400,000, despite a slowdown in China and concern about Musk's Twitter infatuation. Still, competition from other EV makers is cutting strongly into Tesla's market share, which is in part why it cut prices last month. But more than anything, the earnings show that demand for EVs is still booming despite economic worries, and as long as Tesla is the leader in that market, it's hard to ignore its shares. . . .
Where to charge?
. . . . One of the issues with getting power into people's EVs is where they live. It's fine if you own a house in the suburbs where you can install a charging station in your garage. But what if you rent in an apartment complex? Now, several companies say they are trying to come up with a solution. Read more. . . .
Editor's picks: An iceberg the size of London
Yesterday, a 🆕 #iceberg of the size of Greater London calved from the Brunt Ice Shelf in #Antartica 🇦🇶

⬇️#Copernicus #Sentinel3 🇪🇺🛰️ captured the first image this morning (24 January at 05:34 UTC)#Chasm1 pic.twitter.com/qsnjuEuzOM

— Copernicus EU (@CopernicusEU) January 24, 2023
Fine print on labor in US climate bill complicates tax credits
Fine print in the U.S. climate bill relating to wage and labor requirements is complicating companies' ability to qualify for tax credit, Ari Natter writes for Bloomberg Green. The legislation boosted tax credits and provided subsidies for clean energy projects and for consumers. But according to the report, projects that don't meet certain new wage and labor requirements only get a fraction of the credit. For example, to get the full 30% investment tax credit related to solar construction, developers must pay workers at least a wage level set by the Depart. of Labor and use a minimum share of labor from workers who are in registered apprenticeship programs, the report notes. The Bloomberg report quotes Abigail Ross Hopper, president of the Solar Energy Industries Association, as saying the provisions are "workable" but the industry needs more guidance from the federal government and that "there must be some recognition that in some parts of the country the infrastructure is not yet set up, and there may not be sufficient apprenticeship programs in some states."
Global green bond issuance could rebound this year
Global green bond issuance in the coming year is expected to get a boost from supportive policies, stable interest rate expectations and a catch-up of postponed issuances from last year, according to analysts cited by S&P Global Market Intelligence. The report notes this could signal a rebound after a 25.6% decline in green bond supply in 2022. The report cites Jianheng Chen, head of fixed income research at Beijing-based CICC Research, as saying efforts to standardize the market will spur growth in China for 2023. In the U.S., analysts see the Inflation Reduction Act, which aims to provide $386 billion in energy and climate spending over 10 years, with related tax incentives of about $265 billion, as supporting green bond issuance this year. Bram Bos, lead portfolio manager for green, social and impact bonds at Goldman Sachs Asset Management, told S&P Global he expects a "regional shift" in the Europe-dominated market, with a growing share of the U.S. and emerging market issuers.
Plug 'em in: EV batteries could speed renewable energy growth
Electric vehicle batteries alone could satisfy short-term grid storage demand by as early as 2030, according to new research published recently in Nature Communications. The authors say: "EV batteries could complement [renewable energy] generation by providing short-term grid services. However, estimating the market opportunity requires an understanding of many socio-technical parameters and constraints. We quantify the global EV battery capacity available for grid storage using an integrated model incorporating future EV battery deployment, battery degradation, and market participation. We include both in-use and end-of-vehicle-life use phases and find a technical capacity of 32–62 terawatt-hours by 2050. Low participation rates of 12%–43% are needed to provide short-term grid storage demand globally. Participation rates fall below 10% if half of EV batteries at end-of-vehicle-life are used as stationary storage. Short-term grid storage demand could be met as early as 2030 across most regions." Authors: Chengjian Xu, Paul Behrens, Paul Gasper, Kandler Smith, Mingming Hu, Arnold Tukker and Bernhard Steubing.
Words to live by . . . .
"Every day, it seems, a new extreme weather catastrophe happens somewhere in America, and the media's all over it, profiling the ordinary folks wiped out by forest fires, droughts, floods, massive sinkholes, tornadoes." — Journalist Jane Velez-Mitchell.