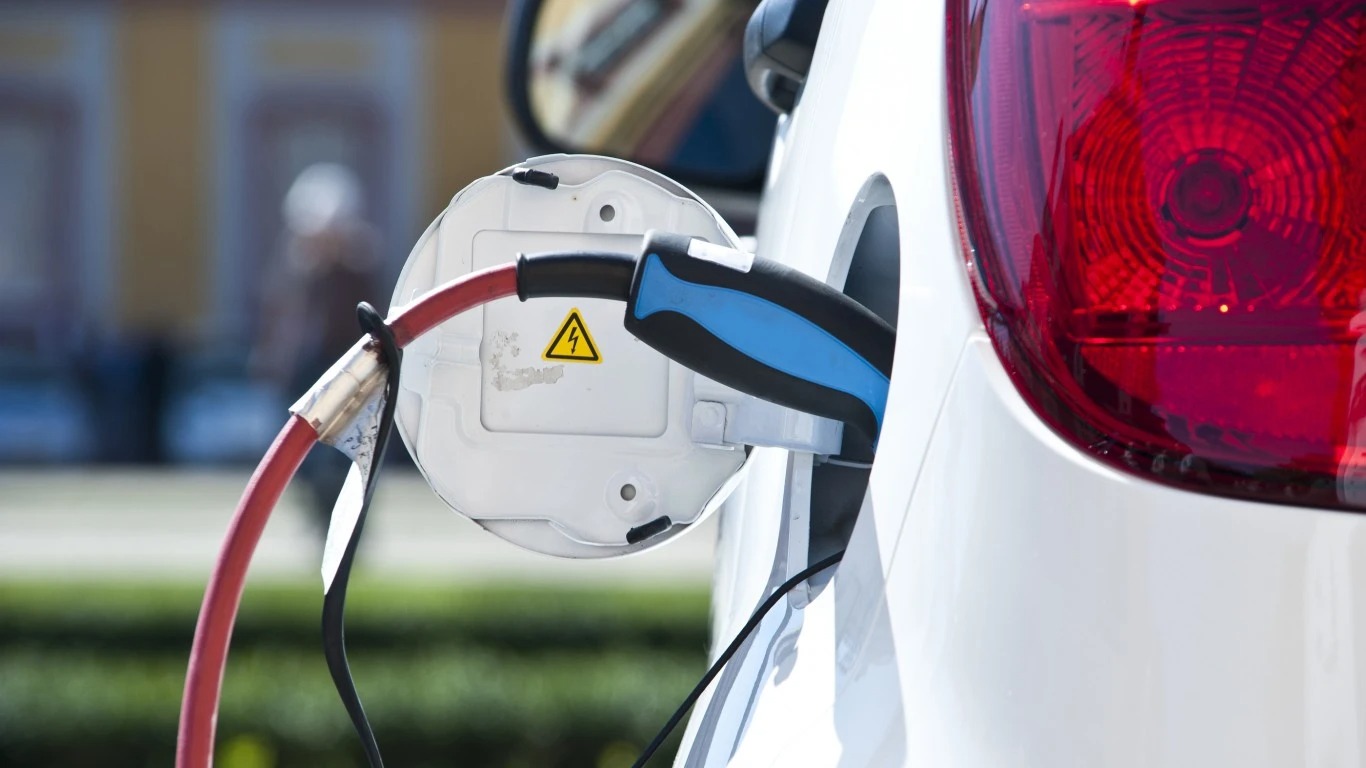 This week's bankruptcy filing of Lordstown Motors $RIDE was long expected. But an interesting development in the story of rival Lucid Group $LCID should give investors in the EV startup class of 2020 some hope for more positive outcomes for some of the rest as the endgame approaches.
Lucid's largest investor, the Saudi Public Investment Fund, increased its stake to over 60% last week, according to a filing cited by Callaway Climate Insights partner InsideArbitrage.
The filing news comes a day after the UK's Aston Martin, also a holding of the Saudi fund, announced a deal to collaborate with Lucid by using its electric components technology in future EVs. The collaboration and added investment are likely precursors to a takeover of Lucid by the fund as it looks for ways to increase cooperation among its luxury auto holdings.
Lucid shares popped more than 10% on the news and have continued to rise this week, though at $6.83 they are still trading at about half the price they were in late January, when they spiked on speculation the Saudis were getting ready to move. A successful Lucid takeover would make investors much more comfortable with the future of other EV startups, such as Rivian $RIVN , which has high profile investors including Amazon $AMZN , or even Nikola (NKLA), also rising this week.
In any event, the Saudi PIF, which is also the fund that is hoping to buy the PGA golf tour in the U.S., seems to be making its move on Lucid at last. Don't be surprised to see sleek Lucid EVs at next year's PGA events.
Sanctions? What sanctions? U.S. pays billions to Russia for nuclear fuel
. . . . Despite tough talk and economic sanctions against Russia for its invasion of Ukraine last year, U.S. nuclear power companies still send Russia more than $1 billion a year for enriched uranium to fulfill renewable energy needs, writes Bill Sternberg. In a detailed analysis of how the business works and how the controversial trade fuels the biggest form of renewable energy growth in the U.S., Sternberg argues that the instability in Russia over the past week illustrates the folly of depending on an unstable and hostile country for U.S. energy demands, not to mention helping fuel Vladimir Putin's war. The payment is equivalent to what Putin paid Wagner Group rebel Yevgeny Prigozhin in the past 12 months. As U.S. nuclear requirements are expected to double in the next several years, something needs to change. . . .
Latin America faces for hurricane season fueled by climate change
. . . . El Niño can make it hard for forecasters around the world to accurately predict how many major storms are in the cards for this year's Atlantic hurricane season. But as Mike Molinski reports, a single storm, such as Hurricane Wilma, seen above, can be deadly and devastating. Latin America, the Caribbean and the U.S. typically see the brunt of the Atlantic hurricane season, with Mexico, the U.S. and Cuba suffering the most fatalities. Haiti, Puerto Rico, Nicaragua and the Dominican Republic are close behind in terms of devastation. And climate change is making these storms more intense.
Thursday's subscriber insights
Falling EV prices likely to spur greater sector growth
. . . . A report from Kelley Blue book shows an interesting trend: The average price of an EV has dropped almost $10,000 from a year ago. Some of the credit goes to Tesla $TSLA , which reduced prices on several of its models. Overall, though, if more EVs are in reach of people's pocketbooks, it cannot but help speed up the EV transition.
Despite political turmoil, including declarations by the auto worker's union this week that it is concerned about a loss of jobs in the EV transition, the rising demand for electric vehicles and falling costs will ultimately spur a more rapid transition to EVs then even expected a few years ago. Read more . . .
Solar has early lead in renewables race
. . . . At the end of the day in the renewable transition, decades from now, the biggest renewables contributor is likely to be the one that can produce the most power for the least amount of money. And, according to risk management consultants DNV, that is likely to be solar energy, which is seeing installation costs continuing to fall faster than wind power and other green sources.
With expectations that solar and other renewables will someday contribute almost three-quarters of U.S. energy production, versus 10% for fossil fuels, the predictions portend a rapid change in energy infrastructure over the next 25 years, and one in which investors are only starting to understand. Read more here. . . .
Editor's picks: EV sales surge; feds block lithium mining spot in Nevada
IEA: EV demand is booming
Demand for electric cars is booming, according to a new report from the International Energy Agency, which says EV sales are on track to jump 35% this year to 14 million. In 2019, only 2.5% of cars sold worldwide were electric. In 2023, they're set to reach 18%. The IEA Global EV Outlook for 2023 says "the global auto industry is undergoing a sea change, with implications for the energy sector, as electrification is set to avoid the need for 5 million barrels of oil a day by 2030." IEA Executive Director Fatih Birol said, "Electric vehicles are one of the driving forces in the new global energy economy that is rapidly emerging and they are bringing about a historic transformation of the car manufacturing industry worldwide."
BLM blocks lithium mining spot in Nevada at NASA's request
The federal Bureau of Land Management has declared a dry lakebed in Nevada's Railroad Valley off-limits for lithium mining after NASA said the area needs to remain undeveloped so the agency can use it to calibrate satellites used for forecasting weather and studying climate change. NASA has used the dry lakebed for more than 30 years to measure the time it takes for satellite signals to travel to Earth and back, according to a report from Yale Environment 360. The report says mining firm 3 Proton Lithium, which holds claims running through the valley, said it will no longer be able to access valuable deposits of lithium brine in the lakebed.
Explain that: Ecosystem
. . . . An ecosystem, according to the UN IPCC's glossary on global warming, is a functional unit consisting of living organisms, their nonliving environment and the interactions within and between them. The components included in a given ecosystem and its spatial boundaries depend on the purpose for which the ecosystem is defined: In some cases they are relatively sharp, while in others they are diffuse. Ecosystem boundaries can change over time. Ecosystems are nested within other ecosystems and their scale can range from very small to the entire biosphere. In the current era, most ecosystems either contain people as key organisms, or are influenced by the effects of human activities in their environment.
Words to live by . . . .
"Give me the splendid, silent sun with all his beams full-dazzling." — Walt Whitman.