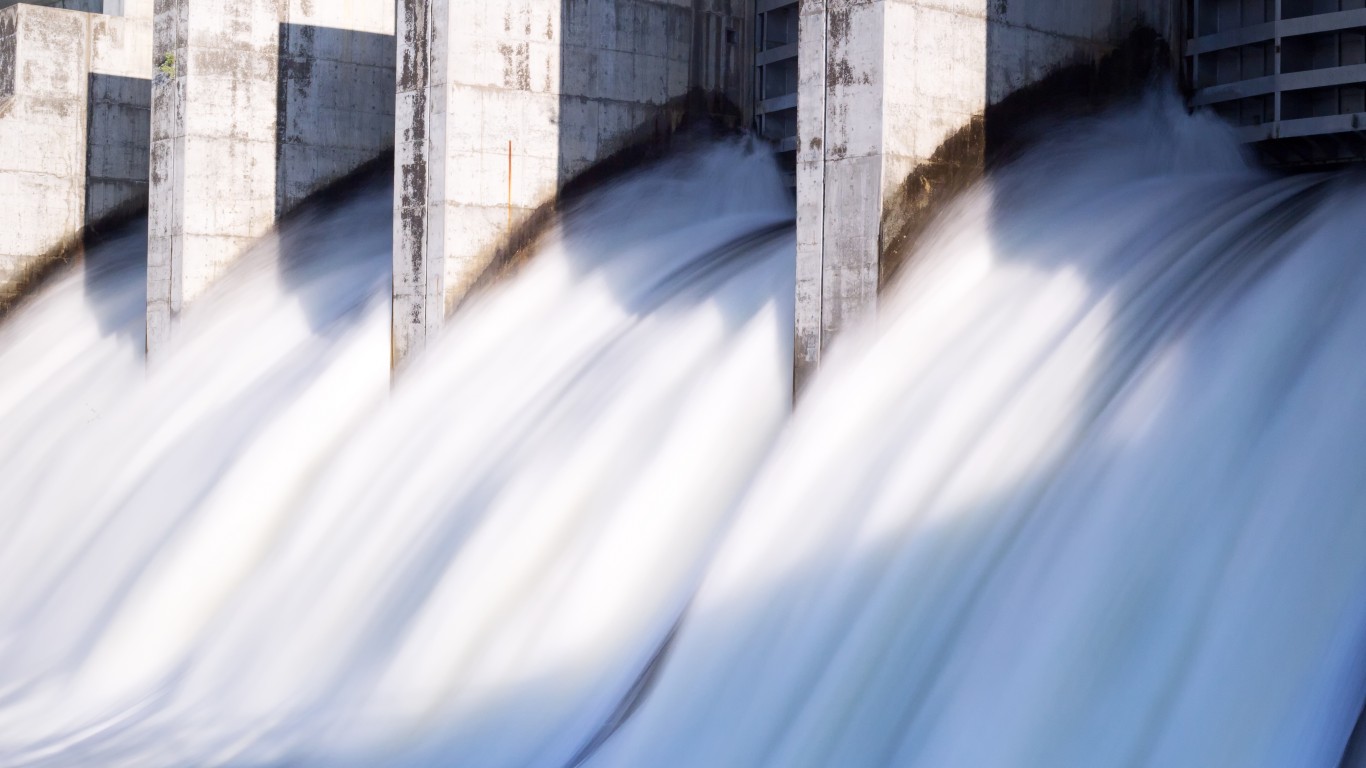 California's game of legal chicken with other Western states over precious Colorado River water is finally on the clock.
As Callaway Climate Insights warned in February, the state's unwillingness to craft a solution with six other states, especially Arizona, over the past few years this week led the federal government to set a formal deadline for a deal. Gov. Gavin Newsom and California have enjoyed senior legal rights to a bigger share of the water from the drying river and so have not been incentivized to find a solution.
Now, unless it can come up with a better idea than an even distribution of cuts with Arizona and other states, that is exactly what will be imposed on it. There is little chance the government will side with California's legal status and force cuts of more than 50% to Arizona's supply, which would essentially stop a primary flow of water to Phoenix and Tucson. Forgetting the humanitarian and economic disaster that would cause, just look at the politics. Arizona is a Biden swing state. California is not.
The Feds cleverly waited until the end of a very wet winter in California, with many reservoirs full after years of drought, to impose their deadline. The Department of the Interior wants a solution in place by August. And it's calling Newsom's bluff. Yes, there will be lawsuits, but in existential situations like this, governments don't fool around. Look no further than Switzerland's mandatory merger of UBS and Credit Suisse just last month to prevent a global banking crisis, as the government ran roughshod over laws and stakeholder rights alike.
The water wars are finally here, at least in the U.S. West. Prices are rising and a new economic reality is forming over what we once thought was an endless commodity. How Newsom and California react in the next 42 days will tell us a lot about his (its) potential to lead in a time of crisis.
Here's how investors really behave at a 'woke' mutual fund firm
. . . . Despite the war on 'woke' by conservatives targeting ESG investing at mutual fund firms, few investors appear to be directing more than a fraction of their portfolios to environmental, social and governance strategies, writes Mark Hulbert. Citing recent surveys of investors at Vanguard, one of the largest fund companies and a primary woke target of red state leaders, Hulbert found most investors have less than 1% of their assets in funds or ETFs marketing themselves as ESG. How this compares to fossil fuels and what it means for climate-conscious investors going forward leads to some surprising conclusions. . . .
Thursday's subscriber-only insights
. . . . Call it the tale of two transmission lines. While a 732-mile project in the American West has been given the go-ahead, the fate of a 145-mile power cable in Maine that would deliver clean power from Quebec to New England is now in the hands of a jury after a years-long tussle between planners and environmentalists. The latter is an example of the many barriers to creating an efficient system to distribute clean energy. Read more. . . .
. . . . Still think that oil stock portfolio left to you by Grandpa is worth keeping? You might want to look at the EPA's report released Wednesday that says Americans could stand to save up to $1.1 trillion on gasoline prices should the Environmental Protection Agency's proposal to impose the toughest-ever auto emissions standards be adopted. Yes, gas pumps will be on the way out — and along with them oil company profits. Read more here. . . .
Editor's picks: Wildfires in N.J.; cost may stall switch to EVs
New Jersey wildfire
Gusty winds, warm temperatures, low humidity and dried-out fuel: the perfect recipe for deadly wildfires, and something people in the west and southwest have become accustomed to worrying about and being prepared for. But in New Jersey? Amid record high temps in the Northeast this week, a wildfire in southern New Jersey scorched 4,000 acres in just 24 hours. According to a report from CNN citing the New Jersey Forest Fire Service, this one fire had burned more than half the average acres burned in New Jersey in an entire year as of Wednesday. No injuries had been reported but as the fire blazed, the National Weather Service issued red-flag warnings for 20 states and said dry, windy conditions like those in New Jersey are spiking the risk for wildfires across the U.S.
Even with tax credits, EV sales could stall
Only 8% of U.S. adults say they or someone in their household owns or leases an electric vehicle, and just 8% say their household has a plug-in hybrid vehicle, according to the results of a new poll by The Associated Press-NORC Center for Public Affairs Research and the Energy Policy Institute at the University of Chicago. The AP reports that "even with tax credits of up to $7,500 to buy a new EV, it could be difficult to persuade drivers to ditch their gas-burning cars and trucks for vehicles without tailpipe emissions." But at least 4 in 10 U.S. adults say they are at least somewhat likely to switch to an electric vehicle when they buy their next car. About half — 47% — say it's not likely they would go electric, and more than half of those folks cited the high cost as a reason.
Can the financial sector take the heat?
In this Federal Reserve Bank of New York staff report titled Climate Stress Testing, the authors explore the design of climate stress tests to assess and manage macroprudential risks from climate change in the financial sector. This staff report highlights the need to consider many transition risks as dynamic policy choices, better understand and incorporate feedback loops between climate change and the economy, and  further explore compound risk scenarios in which climate risks co-occur with other risks. In addition to identifying needed aspects of additional research, they also discuss the relative advantages and disadvantages of using market-based climate stress tests that can be conducted using publicly available data to complement existing stress testing frameworks. Authors: Viral V. Acharya, New York University; Richard Berner, Leonard N. Stern School of Business, NYU; Robert F. Engle, NYU, National Bureau of Economic Research; Hyeyoon Jung, Federal Reserve Bank of New York; Johannes Stroebel, NYU, NBER, Centre for Economic Policy Research; Xuran Zeng, NYU; Yihao Zhao, NYU.
Words to live by . . . .
"April is a dog's dream. The soft grass is growing, the sweet breeze is blowing and the air all full of singing feels just right." — Marilyn Singer, author.