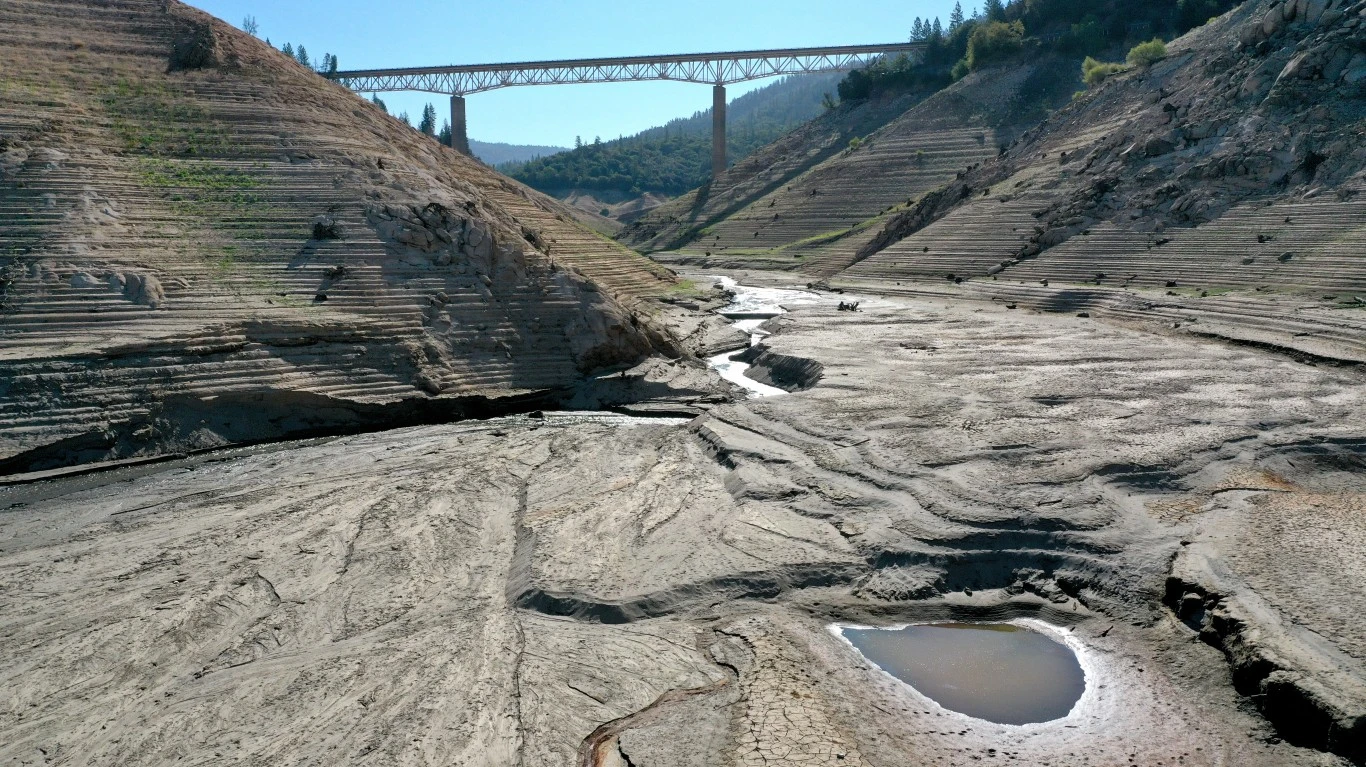 Heavy rainfall in June brought some relief to drought-stricken areas of the United State, including parts of New England, the Mississippi Valley, and the Great Lakes region. But the precipitation missed other thirsty parts of the country that so far this summer continue to swelter under intense summer heat and unusually dry conditions.
The worst drought conditions so far this summer are mostly in Kansas, Missouri, and Nebraska, according to the U.S. Drought Monitor, jointly produced by the National Drought Mitigation Center at the University of Nebraska-Lincoln, the U.S. Department of Agriculture, and the National Oceanic and Atmospheric Administration. 
To identify the 20 U.S. counties engulfed in record drought right now, 24/7 Wall St. reviewed data from the U.S. Drought Monitor. We listed the 20 counties where at least one-third of the land area was experiencing "exceptional" drought as of the week ending July 11, 2023 — the latest data available. Exceptional drought, or D4, is the most intense level of drought. We also considered "extreme" drought, the second most intense level of drought (D3), in each of the 20 counties. 
In "extreme" drought conditions, there are major crop and pasture losses, fire danger, and widespread water shortages or restrictions. The same conditions characterize "Exceptional" drought conditions except they are more intense and widespread. Further, there are shortages of water in reservoirs, streams, and wells causing water emergencies. Such water emergencies can trigger the highest state of mandatory water restrictions. 
In the 20 counties on the list, about 347,000 people are living in "extreme" drought conditions, 224,000 of whom living in "exceptional" drought conditions. A total of about 12,000 square miles in these most drought-stricken counties in the nation are either in extreme or exceptional drought. (These are 20 beloved foods that could disappear forever because of climate change.)
Eight of the counties with the most intense drought conditions are in Nebraska, six are in Kansas, Five in Missouri, and one in Texas. Interestingly, parts of these states are also designated flood hazard areas. These are the 20 states with the biggest risk of flooding.
Here are the parts of the U.S. engulfed in record drought conditions right now.